Huawei Honor 4X battery life results compared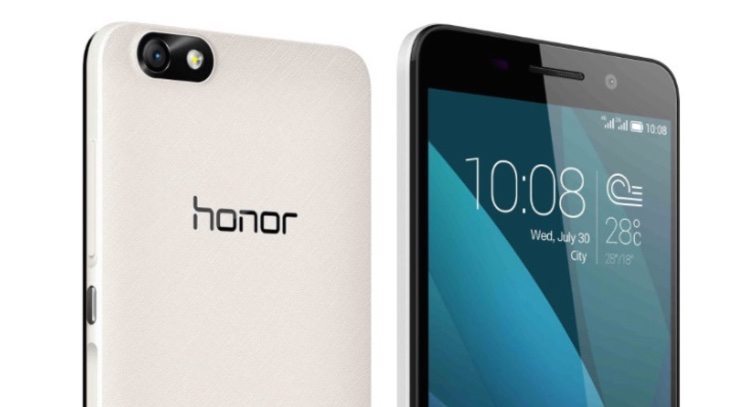 Although the Huawei Honor 4X was announced last year it has taken quite some time to roll out to some buyers. It launched in India at the end of March and more recently arrived for the UK. If you're a heavy user of your smartphone, battery life will be an important consideration for you. Therefore before you decide whether to buy the Huawei Honor 4X you might want to check out battery life results compared with some other handsets.
As a brief reminder of specs we'll tell you that the Honor 4X is equipped with either a 1.2GHz HiSilicon Kirin 620 octa-core processor or 1.2GHz Snapdragon 410 quad-core processor depending on region. It has a 5.5-inch IPS LCD display with resolution of 1280 x 720 and 267 ppi, 2GB of RAM, and 8GB of internal storage (expandable). Camera capabilities come from a 13-megapixel rear camera and 5-megapixel front-facing snapper. This Android handset is juiced by a 3000 mAh battery.
Battery life tests have been carried out on the Honor 4X by Fone Arena, who have split the testing into various categories, Talk Time, 3G Browsing, WiFi Browsing, and Video Playback. The results of the phone for each aspect are then compared with numerous other smartphones. Just a few of these are the Lenovo A6000, Samsung Galaxy A5, Xiaomi Redmi 2, and Motorola Moto E 2nd gen.
For Talk Time the Honor 4X is equal at the top of the table (shown in the image below) with the Moto E 2nd gen and Acer Liquid E700, all managing a time of 33 hours and 19 minutes. The Redmi Note 4G is mid-way down the chart on 20 hours and 1 minute, while bottom of the heap is the LG G3 Beat with just 9 hours and 5 minutes.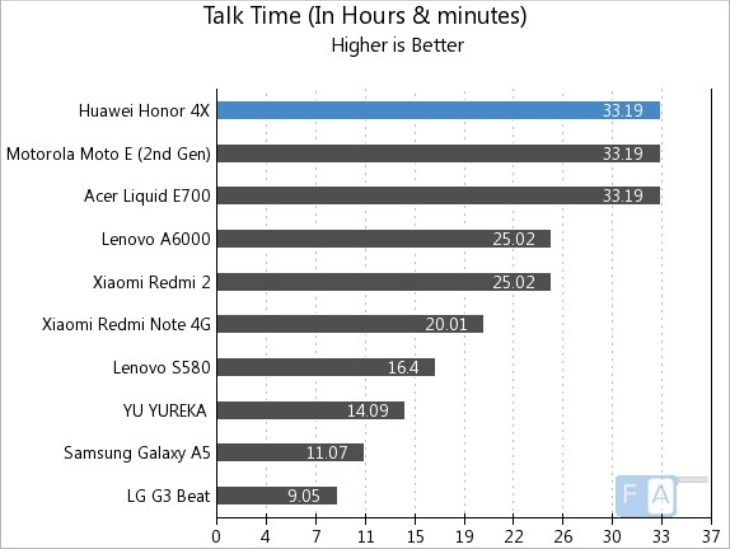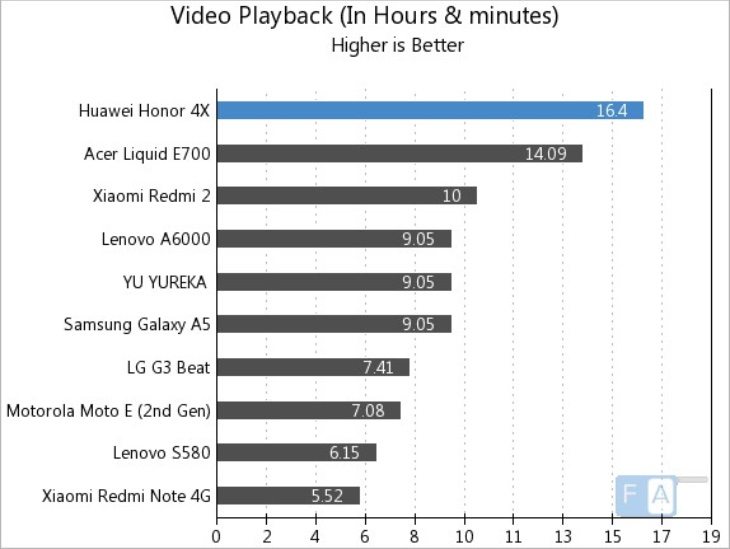 Next we move on to 3G Browsing and again the Honor 4X hits first place on the table. It manages a time of 7 hours and 8 minutes, quite some way ahead of the Acer Liquid E700 in second and the Moto E 2nd gen, Redmi 2, and Redmi Note 4G all tied in third place. Once more the LG G3 Beat languishes at the bottom of the table.
Now on to WiFi Browsing the Honor 4X does well again, taking second spot on 10 hours exactly. It's worth noting that the Acer Liquid E700 gets first position on this occasion with a whopping time achieved of 20 hours and 2 minutes. The Moto G 2nd gen comes in third with 8 hours and 19 minutes.
Finally it's on to Video Playback, and if you were thinking of purchasing the Honor 4X you'll be pleased to learn that yet again it heads the table (image above). It manages an impressive time of 16 hours and 40 minutes, with the Acer Liquid E700, Xiaomi Redmi 2 and Lenovo A6000 coming in second, third and fourth respectively.
We've included two of the tables here and you can see the others as well as Fone Arena's One Charge Rating for the Honor 4X at the source below. All-in-all the phone achieves very notable results for such a competitively priced handset. Are you as impressed by the battery life of the Huawei Honor 4X in this testing as we are?
Source: Fone Arena