Samsung Galaxy S6 vs Galaxy Grand Prime tested for bootup speed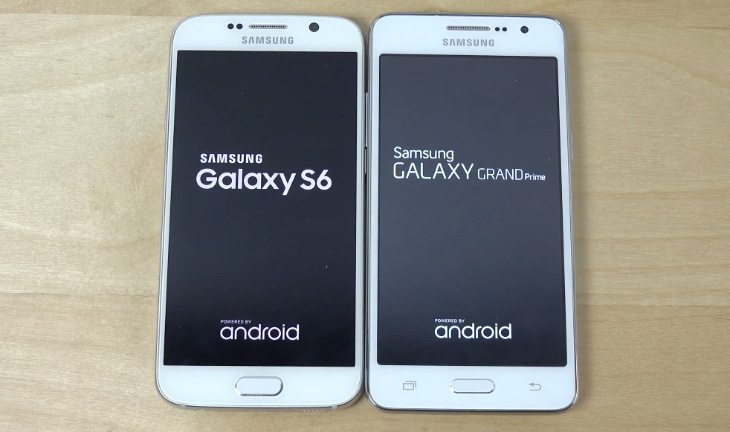 The Samsung Galaxy S6 is grabbing all the headlines at the moment given its top-flight specs and premium design and build. It can be intriguing sometimes to see how a manufacturer's flagship device compares in particular aspects with other devices further down the food chain. With that in mind some readers may be interested in a Samsung Galaxy S6 vs. Galaxy Grand Prime boot-up speed test.
The Galaxy Grand Prime is a much more affordable smartphone than the Galaxy S6, and has been very popular in some markets. It has lesser specs that include a 1.2GHz Snapdragon 410 quad-core processor and 1GB of RAM, and it runs the Android 4.4.4 KitKat operating system. On the other hand the Galaxy S6 is equipped with a powerful Exynos 7420 octa-core processor (with four cores at 2.1GHz and four at 1.5GHz), and has 3GB of RAM. It recently released running Android 5.0.2 Lollipop.
Taking the differences into account you might expect that the Galaxy S6 would blow the Grand Prime out of the water in a simple bootup test, but is that the case? We've embedded a video from YouTube below this story that shows an informal test of these two devices to see which is the fastest to boot up.
The video shows both handsets alongside each other with the S6 on the left and Grand Prime on the right. Both are simultaneously powered up to see which is ready for action first, and you may be surprised that there is hardly any difference in the time at all, so big up for the Grand Prime!
After the brief test the video goes on to show some of the differences between the user interfaces of the Galaxy S6 and Galaxy Grand Prime considering that the first runs Lollipop with the newer version of TouchWiz and the other runs KitKat. When you've taken a look we'd like to hear your thoughts on the bootup results of these two smartphones against each other, so why not send us your comments.