The LG Lancet Windows phone is headed to Verizon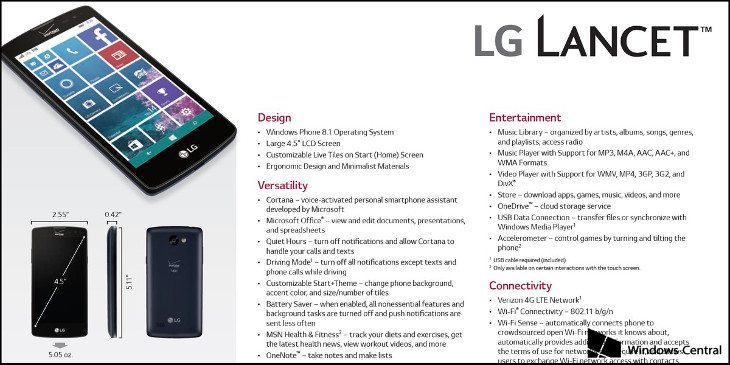 Earlier this morning, we told you about T-Mobile taking a shot at Big Red. As cool as T-Mob's new promo is, Verizon is getting something that's going to interest some folks. It's a Windows-based LG smartphone called the LG Lancet, and it looks like it's coming to Verizon soon.
The LG Lancet will be the first Windows-based handset from LG in quite some time, and while we're not sure if it will hit other carriers or regions, it is definitely headed to Verizon. Official marketing materials and the LG Lancet specs have just shown up, so now we know the look and horsepower of the unannounced smartphone.
According to the leak, the LG Lancet specs show a smartphone with a 4.5-inch panel carrying a resolution of 854 x 480. Beneath the glass, you'll find a Snapdragon 410 clocked at 1.2GHz, and while the RAM is unknown, you will get 8GB of expandable storage to work with. Other features to note include an 8MP rear camera, VGA front-facing sensor, LTE and Wi-Fi.
The LG Lancet looks like most other smartphones these days, and measures 5.11 x 2.55 x 0.42 inches with a weight of 143grams. It will get its juice from a 2,100mAh battery, and run Windows 8.1 Update 2. It may be a Windows handset, but it will have a couple of features familiar to Android users along with things like Soft Light and Live Shot.
The LG Lancet isn't going to blow your hair back, but it should be priced affordably on Big Red when it arrives. We're unsure of when that will be, but will keep you informed as we learn more about the LG Lancet release.
via – Windows Central