Moto X 2015 specs leak reveals major changes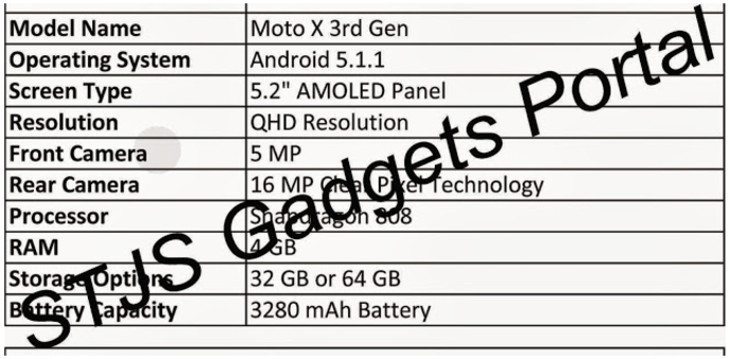 The first Moto X was an extremely popular device when it launched, and the 2nd generation of the device improved on the things that people loved so much about the original. We haven't heard much about the third version of the handset, but today we're getting an interesting leak that gives us the skinny on possible Moto X 2015 specs.
The Moto X 2015 edition is most definitely going to roll out this year, and as you'd expect, folks are curious about what Motorola will rollout this time around. We've seen a couple of Moto 360 leaks regarding its sequel, but the Moto X 2015 specs have been no where to be found — until today. You'll want to take this one with the usual dose of salt.
According to a site known as STJS Gadgts Portal, the Moto X 2015 edition specs will include a new 64-bit Snapdragon 808 processor, 4GB of RAM, and either 32 or 64GB of internal storage. The rear camera is listed as a 16MP sensor with Clear Pixel tech, while the front-facing camera is a 5MP snapper. As for the display, the Moto X 3rd Gen is listed as having a 5.2-inch panel with QHD resolution. Last but not least, is a 3,280mAh battery, and Android 5.1.1.
While we're going to file these Moto X 2015 specs away into the rumor folder for now, it's safe to say that Motorola will produce a beefier handset than they did last year. In a nutshell, all the specs listed are very probably aside from the 4GB of RAM which still feels like overkill for the most part.
via — Phonearena   source: STJS Gadgets Portal