Samsung Galaxy S6 vs Asus Zenfone 2 bootup speed test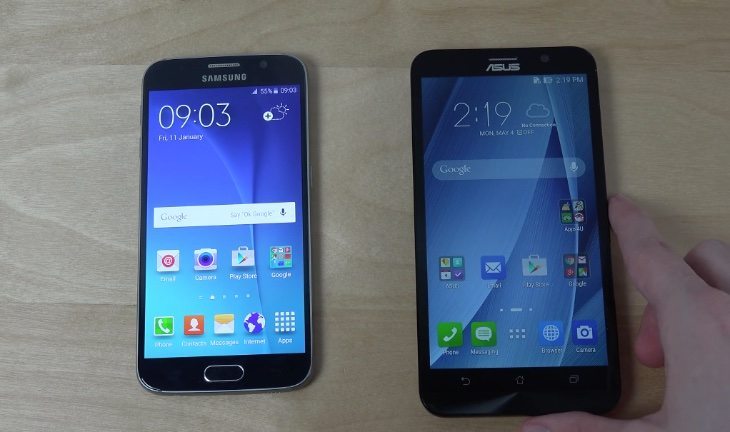 There are plenty of high-end devices on the smartphone market to choose from, and the new Samsung Galaxy S6 is likely to be the dominant Android handset this year. Asus phones don't always attract as much attention, but the new Zenfone 2 has caused plenty of waves as it comes in a 4GB of RAM variant. It should be interesting then, to compare the Samsung Galaxy S6 vs. Zenfone 2 in a bootup speed test.
The Galaxy S6 hardly needs any introduction, but for much more on the phone you can check out our numerous previous articles here. Alternatively head for details on the Asus Zenfone 2, including benchmarks, reviews, and more here. As a refresher on key specs the Galaxy S6 has an Exynos 7420 octa-core processor, Mali-T760MP8 graphics, a 5.1-inch display with Quad HD resolution, and 3GB of RAM.
On the other hand the Asus Zenfone 2 (ZE551ML) 4GB of RAM model is equipped with an Intel Atom Z3580 quad-core CPU, Power VR G6430 GPU, and a 5.5-inch display with Full HD resolution. This phone also come in a 2GB of RAM variant but the handset used in today's speed test is the 4GB RAM model.
As well as full specs comparisons it can sometimes be interesting to see how particular aspects of a smartphone compare with another, especially when one has a far lower price than the other. In this case it's the Asus phone that is the cheaper of the two, and below this article we've embedded a video from YouTube showing a simple bootup speed test.
The Galaxy S6 is shown on the left with the Zenfone 2 on the right, and you'll see both phones being simultaneously powered up to see which is ready for action first. We're not going to give the game away for which is the fastest as you might prefer to find out when you watch the bootup test, but we will say that one is notably slower to start up than the other.
The concise video then goes on to show a little more of the two phones with some interesting observations. These include pointers such as the wobble factor of the Zenfone 2 when placed on a flat surface, the differences in display quality, the Zen UI software experience of the Asus phone and more. When you've taken a look at the bootup video do send us your comments on the Samsung Galaxy S6 and Asus Zenfone 2 using the box below.