HTC Desire 816 Lollipop update arrives for India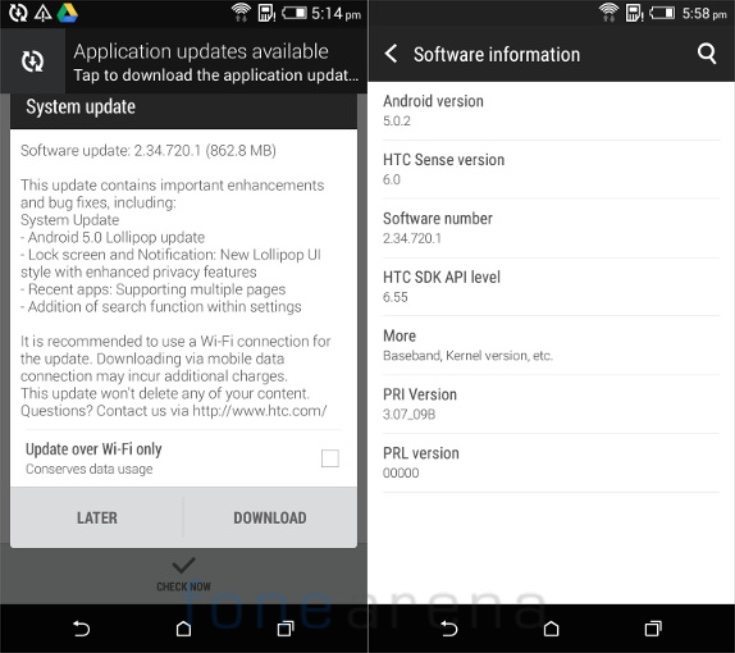 We always enjoy being able to tell readers that updates for their devices are on the way, and the Android 5.0 Lollipop operating system update is continuing to reach more devices. It has already rolled out for some devices such as the One M8 and One M7, and now the HTC Desire 816 Lollipop update is arriving for India.
One of the only drawbacks of the Android operating system is the fragmentation that leads to some smartphones and tablets receiving updates long before others. The time that it takes varies not only by device, but also by region and carriers, something that can lead to frustration for some device owners. It's good to hear then that Lollipop has finally begun being pushed out for the Desire 816 in India in the form of Android 5.0.2.
The update for the Desire 816 is 862.8MB in size and brings the software to v2.34.7201. The changelog mentions several pointers about what you can expect when you've updated your Desire 816 with Lollipop. These include the new UI style with improvements to privacy features, multiple page support for recent apps, and a new search function under Settings.
When you receive notification to your phone that the update is ready it's recommended that you use a WiFi connection when you download and install it. Bear in mind that updates are often pushed out over a few days so you may need to be a little patient. While it's nice to see this update now rolling out for the Desire 816 in India, there's still no sign of Lollipop for the Desire 820. However, we imagine that there won't be too much longer to wait until owners of the 820 also start to see the update appearing.
It's always good to hear from readers when they receive new updates to track the progress of the rollout. Have you already received the Android Lollipop update for your HTC Desire 816? What are your thoughts on the changes and improvements that it offers? Do let us know with your comments.
Source: Fone Arena