Zenfone 2 4GB vs LG G4 in speed and heat testing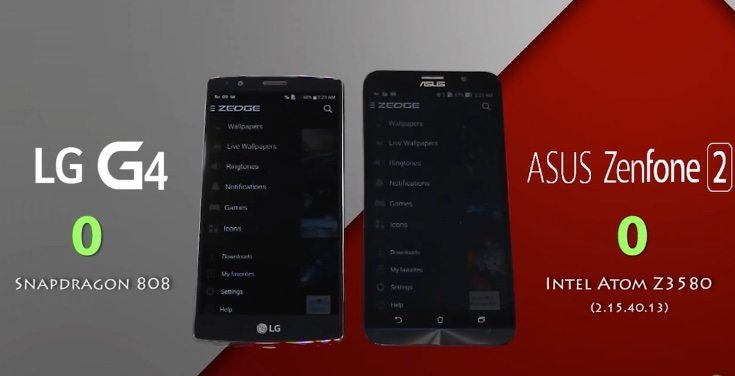 The Asus Zenfone 2 recently released in several variants, and one of these in particular is gathering plenty of interest as it has a whopping 4GB of RAM. Meanwhile LG recently announced its G4 flagship, which will soon be available in different regions worldwide. As the Asus handset is a cheaper device you might be interested in the video we're sharing today that shows the Zenfone 2 4GB vs. LG G4 in speed and heat testing.
We've already written many articles on both of these devices and you can see much more on either in our previous articles on the Zenfone 2 or LG G4 at the links provided. These include comparisons with other handsets, reviews and more. As a brief reminder though we'll give you the key specs of both of these phones.
The Zenfone 2 (ZE551ML) 4GB model is equipped with an Intel Atom Z3580 quad-core processor, PowerVR G6430 graphics, a 5.5-inch IPS display with Full HD resolution of 1920 x 1080, and of course 4GB of RAM. On the other hand the LG G4 has a Snapdragon 808 hexa-core processor, Adreno 418 graphics, a 5.5-inch IPS LCD display with Quad HD resolution of 2560 x 1440, and 3GB of RAM.
Beneath this post you can see a video that we've embedded from YouTube for your viewing convenience. It shows speed and heat tests being conducted on both phones, and begins by pointing out the big difference in pricing for these phones, with the LG G4 being more expensive than the Zenfone 2. The speed testing involves a series of apps being opened, games being loaded, Internet browsing, benchmarking, and also bootup times.
Along the way you'll see points being notched up for each device every time it's the quickest, and you'll also see slow motion footage to be perfectly clear. At one point the reviewer also checks the temperatures being given off by the devices. The comparison provides some interesting and quirky insight into how these two devices compare in these particular aspects, but we're not going to give away exactly what happens, as it will ruin the suspense of the video!
When you've taken a look we'd appreciate receiving your comments. What do you think of the results of this speed testing for the Zenfone 2 vs. LG G4, and does anything surprise you?