Eurovision 2015 Google Doodle celebrates song contest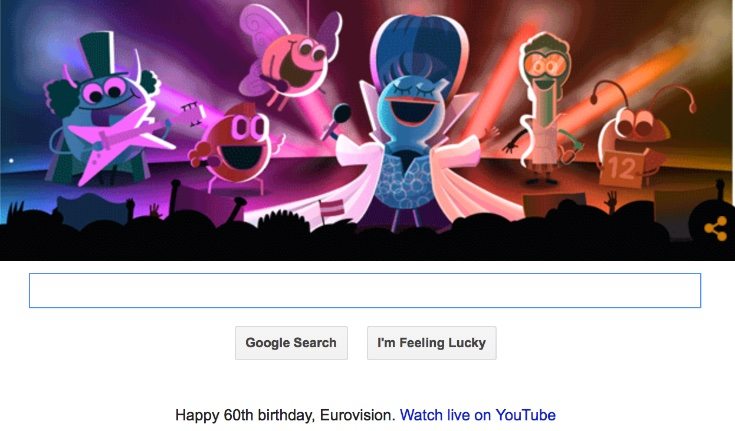 Our first item today is a little bit different as it concerns the Eurovision Song Contest, and fans of the spectacle may appreciate a special Eurovision 2015 Google Doodle. These unique doodles are often used to commemorate an anniversary or celebrate an occasion and tonight is the 60th birthday of Eurovision. Over 200 million viewers are expected to watch on TV, so it's a great idea for Google to issue the doodle as a tribute to the show's final.
If you head to Google's home page today on your PC, smartphone or tablet device, you'll see the doodle to mark the big event that is taking place in Vienna, Austria this evening. This year the contest has an added extra, as for the first time Australia has been invited to take part because of the Diamond anniversary. In fact, the country's entry sung by Guy Sebastian is one of the favourites to win, with some of the others being Sweden, Italy, and Russia.
The UK entry will be sung by Electro Velvet and they will be competing fifth in the running order with "I'm Still in Love With You." The letters that form the word Google are suitably represented as musicians and singers, and we noticed that the 'e' at the end of the word is aptly holding a score of 12, the highest points that can be awarded from one country to another. There are also twinkling lights flashing around the performers on stage.
We've also embedded the official Google Doodle YouTube video showing this tribute to the 2015 Eurovision Song Contest below this article for a further look. Will you be watching the Eurovision Song Contest Final later? Who is your pick for the winner of Eurovision 2015 tonight? What do you think of this special Google Doodle? Let us know with your comments.