Galaxy S6 Edge vs Note 4, A7 and Mega 6.3 bootup test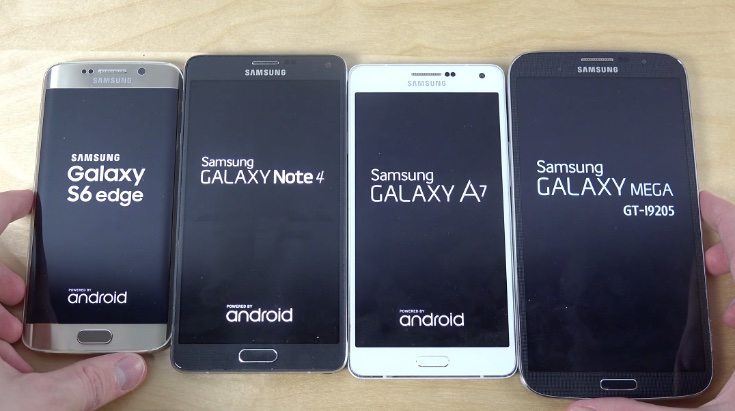 The Samsung Galaxy S6 Edge is one of the latest Samsung devices, releasing at the same time as the Galaxy S6 flagship. It's a highly impressive device, and today we're going to take a look at a video that focuses on one particular aspect of it with an informal speed test. The Galaxy S6 Edge is being compared here with the Samsung Galaxy Note 4, Galaxy A7, and Galaxy Mega 6.3 in a bootup test.
It can be really interesting to see how recent devices compare and also what happens when an older handset is thrown into the mix. The Galaxy S6 Edge released in April, the Galaxy A7 arrived on the scene in February this year, and the Galaxy Note 4 released in October last year. Meanwhile the Samsung Galaxy Mega 6.3 released back in the summer of 2013 so is the oldest by quite some distance.
Key specs of the Galaxy S6 Edge include an Exynos 7420 octa-core processor, and 3GB of RAM. The Galaxy Note 4 has either a Snapdragon 805 quad-core processor or Exynos 5433 octa-core processor (models vary) and also has 3GB of RAM. Meanwhile the Galaxy A7 has either a Snapdragon 615 octa-core processor or Exynos 5 Octa 5430 octa-core processor (models vary) and 2GB of RAM. Finally the lesser Galaxy Mega 6.3 has a mere Snapdragon 400 dual-core processor and 1.5GB of RAM.
If you scroll down below this article you'll be able to watch a YouTube video from Adrienisen that shows all of these devices alongside each other. You'll see them being simultaneously powered up in a race to see which is ready for action first. Obviously we'd anticipate the later phones with higher-end specs to be the quickest, so will the test tally with our expectations?
After the bootup the reviewer gives us a quick look at some of the differences of the UI's of the Galaxy S6 Edge and the others, and also shows which versions of Android they are each operating on. We're not going to mar your enjoyment of the video below by giving the game away as far as the bootup speeds are concerned, as you might prefer to find out when you view it.
If you enjoy this bootup testing you might also like to see another recent video we shared that shows the Galaxy S6 Edge vs. Galaxy S6, Apple iPhone 6 and iPhone 6 Plus in Internet and bootup speed test comparisons. Drop us any comments you have in the box below.