Android M preview release available, key points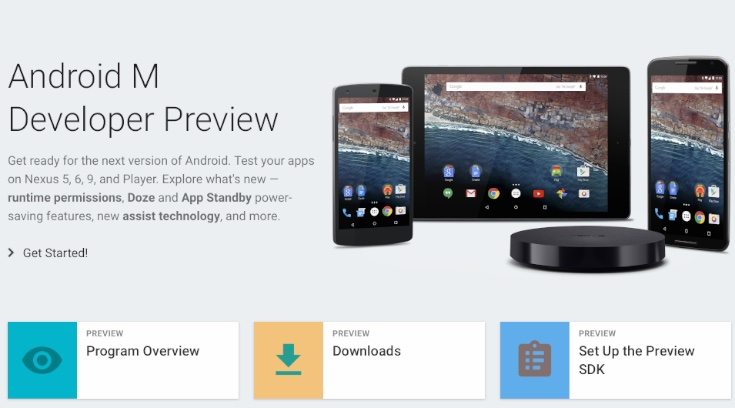 Plenty of news was announced at Google's I/O developer conference a few days ago and one of the main points was the introduction of the Android M update. A developer preview for the next version of the mobile operating system is already available to download and we have some further information ahead.
We'll be bringing you much more about Android M soon, but what you need to know right now is that the full version of this upgrade will release later in the year. Just as we expected, Google hasn't yet announced the final name for Android M, so at present you can take your pick from suggestions such as Milkshake, Meringue, Marshmallow, Macadamia Nut Cookie, and many more we can think of.
Google swiftly made a pre-release version of Android M available for developers, and this is available for various Nexus devices. They are the Nexus 5, Nexus 6, Nexus 9 and Nexus Player. Bear in mind that the preview is aimed at developers so is not stable and is not intended for use on your daily driver. It's also a complicated procedure so should only be attempted by those who really know what they're doing.
While we can't recommend you try it out and cannot be held responsible for anything that goes wrong, we do realise that many Android enthusiasts enjoy this aspect of owning a Nexus device. Therefore if you want to check it out, the preview can be downloaded from this Android developer page where you can also see a program overview, support and more.
Google's Sundar Pichai announced that Android M will focus on six major areas of improvement. These are App Permissions, Custom Chrome Tabs, App Links, Android Pay, Fingerprint Sensors, and Power and Charging. We'll be giving more details on changes and Android M features over the coming days and weeks so do check back with us from time to time.
Are you pleased to hear initial news on the Android M release as a developer preview for certain Nexus devices? Give us your first impressions on what you've heard so far by sending your comments to us.
Source: GSMArena