Microsoft Lumia 735 Verizon release date leaked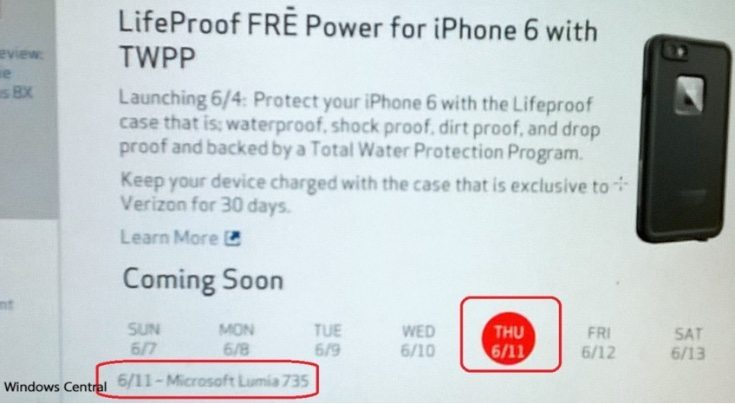 The Nokia Lumia 735 launched in September last year and many have been waiting for this value for money smartphone to arrive on Verizon. In November there were signs that the phone would appear on the giant US carrier, but it has taken so long that the phone is now arriving with Microsoft branding. Finally, the Microsoft Lumia 735 Verizon release date has leaked, and there's not long to wait.
Last month we reported that the Lumia 735 had now turned up with Microsoft branding at the FCC, but at that time a release date was still unknown. Now those who have been waiting for this Windows Phone handset on the carrier will be pleased to hear that a release date of June 11 has been revealed for the Microsoft Lumia 735 on Verizon.
A leaked image has emerged that is claimed to be of an internal Verizon document for employees. Under the 'Coming Soon' heading it's shown that the Microsoft Lumia 735 will land on the carrier next Thursday. The phone originally launched with the Nokia branding running Windows Phone 8.1 though it's possible that by the time it hits the shelves on Verizon it may have received the upgrade to Windows Phone 8.1 Update 2. It should also be upgradable to Windows 10 at some point.
Specs of the Lumia 735 include a 1.2GHz Snapdragon 400 quad-core processor, 4.7-inch display with HD resolution of 1280 x 720, 1GB of RAM, and 8GB of internal storage (expandable via microSD to 128GB). It has a 6.7-megapixel rear camera, 5-megapixel front-facing snapper, and a 2200 mAh battery. Connectivity includes 4G LTE, WiFi 802.11 b/g/n, Bluetooth 4.0, NFC, and GPS. It's possible that something may be changed for the Verizon version although that's not yet clear.
The Microsoft Lumia 735 will offer customers on Big Red an alternative to the LG Lancet, which is also a Windows Phone handset. As far as the price of the Lumia 735 on Verizon is concerned that hasn't been detailed yet. While we have to bear in mind that this release date hasn't been confirmed, it does look as though it won't be too much longer until we find out.
Have you been waiting for some time for Verizon to offer the Microsoft Lumia 735? What is it about this mid-range phone that most appeals to you? Do let us know with your comments.
Source: Windows Central