Lenovo K3 Note vs Asus Zenfone 2 4GB RAM silent comparison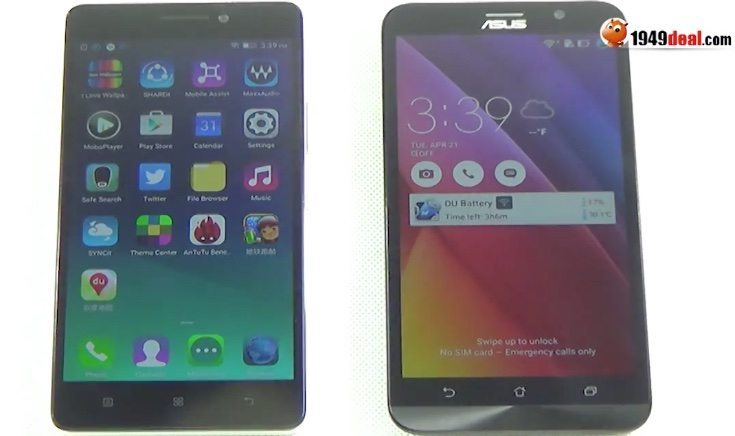 The Lenovo K3 Note released in March and will be launching for further regions such as India before too much longer. There's a lot of interest in this smartphone largely thanks to its very competitive pricing. The Asus Zenfone 2 is also creating plenty of waves, particularly the 4GB of RAM version that many are talking about. With the above in mind we thought we'd bring you a Lenovo K3 Note vs Asus Zenfone 2 4GB RAM silent comparison.
We've already written many times about both of these devices so if you want much more background head to these Lenovo K3 Note and Asus Zenfone 2 links. These include comparisons with handsets such as the Xiaomi Redmi Note, OnePlus One, Lenovo A7000 and others.
Before we get to the Lenovo K3 Note vs Asus Zenfone 2 comparison we'll give a refresher on the key specs of each. The Lenovo K3 Note has a 1.7GHz MediaTek MT6752 octa-core processor, a 5.5-inch IPS display with Full HD resolution of 1920 x 1080, 2GB of RAM, and 16GB of internal storage (expandable to 32GB via microSD). It also has a 13-megapixel rear camera, 5-megapixel front-facing snapper, and supports 4G LTE.
The Asus Zenfone 2 comes in different models and variants, and the 4GB RAM version shown in the video below has a 1.8GHz Intel Atom Z3560 quad-core processor, 5.5-inch display with resolution of 1920 x 1080, and 32GB of internal storage, (expandable to 64GB). Like the K3 Note the Zenfone 2 4GB RAM also has a 13-megapixel rear camera, 5-megapixel front-facing camera, and 4G LTE connectivity.
As you can see, many of the specs of these two phones are the same or very similar, so some potential buyers could well be trying to decide between them. Therefore it may be useful to get some good close-up looks at both phones together, and you can see that in the Zenfone 2 vs Lenovo K3 Note hands-on YouTube video review below.
The reason we referred to the video as a silent review is that there's no narration, but it's clear enough to follow as it goes along. After a brief note of specs the comparison goes on to show the designs of the two phablets. This gives an opportunity to see the handsets from different angles all the way around. In fact it soon becomes apparent that on the front at least they look somewhat similar, although they are very different on the backs. You'll then see how the displays compare and a look at the user interfaces.
The comparison continues with an An AnTuTu benchmark and the Lenovo K3 Note gets a result of 46,197 while the Zenfone 2 manages 41,873. It then moves on to the camera performance with video and images shown in split-screen, a gaming demo and more before a final look at the accessories and contents of the box that each comes in. It appears to be packaging for China so this could vary for regions elsewhere.
Hopefully the concise video below will give readers a better idea of the differences and similarities between them and how they compare against each other. In the pick between the Lenovo K3 Note vs Asus Zenfone 2 4GB RAM model, which are you more likely to purchase?
https://www.youtube.com/watch?v=qfI279NJkJw://