Lenovo A6000 Plus price slash for India and open sale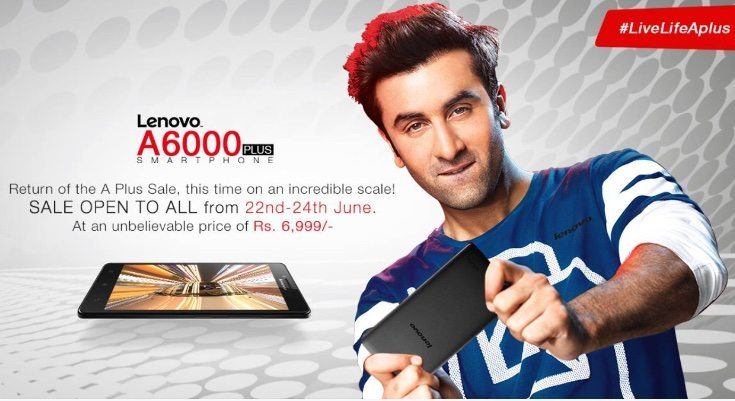 Lenovo has been producing some very competitively priced smartphones that have gone down really well on the market in India. The Lenovo A6000 Plus released in India in late May and has been in heavy demand through the flash sales system. Now there has been a Lenovo A6000 Plus price slash for India, and we also have news of open sale availability.
When the A6000 Plus launched for India it had a price of Rs. 7,499. Now Lenovo Mobile India has announced via Facebook that the phone has a new price of Rs. 6,999. While it isn't clear whether this is a temporary price or a permanent cut we would imagine from the wording of "new price" that this could be the price from now on.
The company also states that an open sale (no registrations necessary) for the Lenovo A6000 Plus on Flipkart will take place from June 22 through to June 24. This is a great opportunity to get the Lenovo A6000 Plus at an even more affordable price, and it looks likely that the company is trying to optimize sales of the phone before the Lenovo K3 Note arrives for sale in India. Coincidentally (or not), the Lenovo K3 Note India launch is set to take place on June 25.
We've written several times now about the Lenovo A6000 Plus, so if you want to read much more about it please head to our A600 Plus articles here. These include specs comparisons with the Moto E 2nd gen 4G and Lenovo A7000. We'll recap you with the key specs of the A6000 Plus though.
These include a 1.2GHz Snapdragon 410 quad-core processor, a 5-inch display with HD resolution of 1280 x 720, 2GB of RAM, and 16GB of internal storage (expandable via microSD to 32GB). It has an 8-megapixel rear camera, 2-megapixel front-facing camera, and 2300 mAh battery. The phone runs the Android 4.4.4 KitKat operating system with Lenovo's Vibe 2.0 UI, and it has 4G LTE connectivity.
Will you be taking advantage of the upcoming open sale and buying the Lenovo A6000 Plus at its new lower price? We always enjoy hearing from readers so do drop us a comment.
Via: Fone Arena