Samsung Galaxy J1 Ace becomes listed, aka J1 Pop?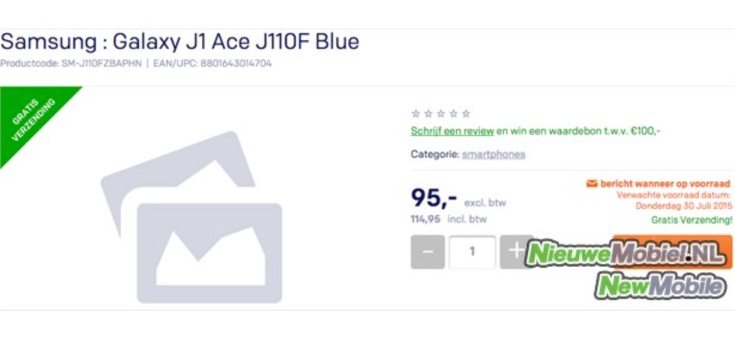 Some readers will have heard of the low-end Galaxy J series of Samsung smartphones. The first of these to release was the Samsung Galaxy J1 that was announced in January this year. Now a new variant of this appears to be on the way, as a device called the Samsung Galaxy J1 Ace has become listed.
Samsung has quite a reputation for coming up with different variations of its handsets and it makes sense that the Samsung Galaxy J1 Ace could be an improved version of the Galaxy J1. The J1 Ace has appeared on a Dutch website and has model number SM-J110F. This is similar but not exactly the same as one of the model numbers for the original J1 (SM-J100F), so we would expect a few specs differences.
A Samsung Galaxy J1 Ace price is also shown on the listing and it's a little more expensive than the Galaxy J1, which would tie in with some enhanced specs. However, nothing is shown about specs so at the moment it's a case of wait and see. From the image here we can also see an expected inventory date of July 30. We cannot take this as an official release date but hopefully Samsung will announce the phone soon.
As a quick reminder the budget Galaxy J1 has a 1.2GHz Spreadtrum dual-core processor, 4.3-inch display with resolution of 800 x 480, 512MB of RAM, and 4GB of internal storage (expandable). It has a 5-megapixel rear camera, 2-megapixel front-facing snapper, and 1850 mAh battery. Even with a few improvements the Samsung Galaxy J1 Ace specs will not be anything to write home about. However, we have to remember that there's still plenty of demand for low-end low-cost smartphones in some regions.
It's also suggested that the Galaxy J1 Ace could be one and the same handset as the Samsung Galaxy J1 Pop that was previously leaked. Readers might also be interested to know that further devices in the Galaxy J series, the Samsung Galaxy J5 and J7, were introduced last month.
We'll be keeping our noses to the ground sniffing out more about the Samsung Galaxy J1 Ace? In the meantime if you have any comments to make, please do drop them in the box below.
Source: nieuwemobiel.ne
Via: SamMobile