iPhone 6 vs Xperia Z3+, LG G4, Galaxy S6 Edge Internet speed test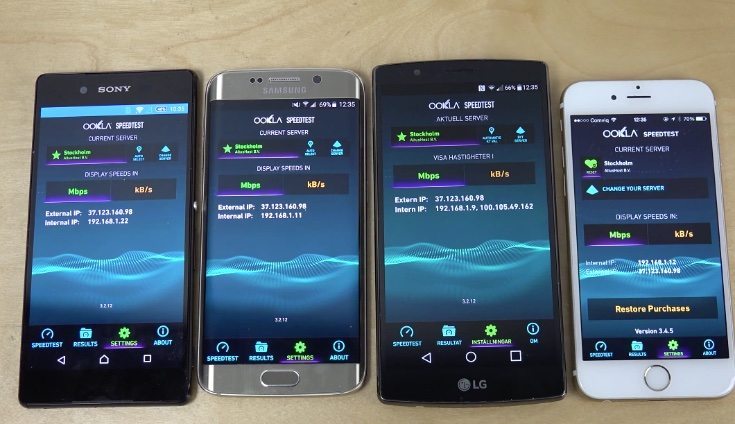 From time to time we like to share videos that we come across, and today is one of those occasions. We're showing a video comparison of the Apple iPhone 6 vs. Xperia Z3+, LG G4 and Samsung Galaxy S6 Edge in an Internet speed test. These are all top-flight smartphones so it can be intriguing to focus on one particular aspect of performance.
The iPhone 6 is the oldest of these devices as it released in September last year. The LG and Samsung flagships both released in April while the Sony Xperia Z3+ (aka Z3 Plus) has only just released. Before we get to the video we'll briefly refresh you of some of the key specs of these devices.
The Apple iPhone 6 has a 1.4GHz Apple A8 dual-core processor with PowerVR GX6450 quad-core graphics, a 4.7-inch display with resolution of 1334 x 750, and just 1GB of RAM. The Sony Xperia Z3+ packs a Snapdragon 810 octa-core processor (four cores at 2GHz and four at 1.5GHz), Adreno 430 GPU, a 5.2-inch display with 1920 x 1080 resolution and 3GB of RAM.
Meanwhile the LG G4 has a Snapdragon 808 hexa-core processor (two cores at 1.82GHz and four at 1.44GHz), Adreno 418 graphics, a 5.5-inch display with resolution of 2560 x 1440, and 3GB of RAM. Finally the Samsung Galaxy S6 Edge packs an Exynos 7420 octa-core processor (four cores at 2.1GHz and four at 1.5GHz), Mali-T760MP8 graphics, a 5.1-inch display with 2560 x 1440 resolution and 3GB of RAM.
On the face of it Apple is playing catch up on specs, although software optimizations means this doesn't always reflect as far as performance is concerned. Therefore, comparing the Internet speeds of these devices should be interesting. The YouTube video that we've embedded below for your viewing convenience comes from Adrianisen. You'll see the phones lined up alongside each other, and from left to right as you see them they are the Xperia Z3+, Galaxy S6 Edge, LG G4, and iPhone 6.
The video shows a test using the Ookla Speedtest app and all of the handsets are on the same WiFi connection. You'll then see the speed test being conducted on each device starting with the iPhone 6. There are some strange glitches as far as upload speeds are concerned, though all manage pretty well with download speeds. Because of these discrepancies the test is run again on all four of the handsets coming up with some different results.
It's worth pointing out that the iPhone 6 is running iOS 8.4 that released last week while the other handsets are all on Android. We're not going to mar your enjoyment of the video below by giving away the outcome of this speed test on the iPhone 6, Xperia Z3+, LG G4, and Galaxy S6 Edge. When you've checked it out we'd welcome your comments.
https://www.youtube.com/watch?v=SJukCJ8Yt4o://