Sony Xperia Z3 Plus vs OnePlus One in speed testing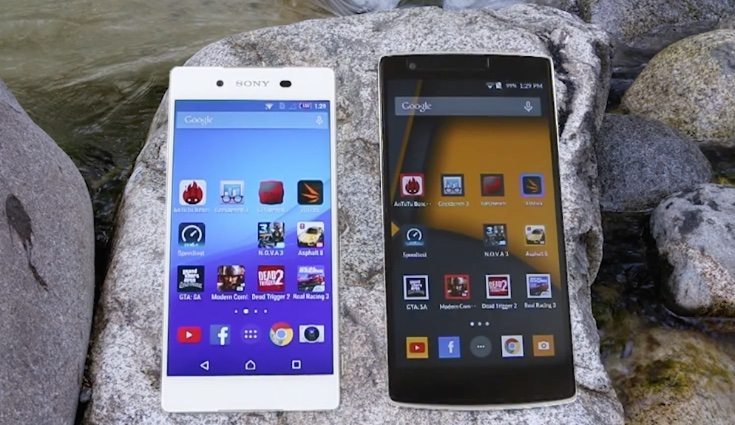 The OnePlus One has proven a big hit since its release just over a year ago, and is still popular despite the fact that the OnePlus Two is likely to release soon. The Sony Xperia Z3 Plus (aka Xperia Z3+) has only just arrived on the market and has some impressive specs. Therefore it should be interesting to see the results of Sony Xperia Z3 Plus vs OnePlus One speed testing, and that's what we can show you today.
The OnePlus Two is expected to arrive on the market in Q3, but there's still plenty of interest in the original OnePlus One that was dubbed a "flagship killer" at launch. Before we get to the performance testing we'll give a recap on specs of the Z3 Plus and OnePlus One so that you can see how they compare in this respect.
The Sony Xperia Z3 Plus has a Snapdragon 810 octa-core processor (four cores at 2GHz and four at 1.5GHz), Adreno 430 graphics, and a 5.2-inch IPS LCD display with resolution of 1920 x 1080. It has 3GB of RAM, and 32GB of internal storage that can be expanded with microSD to 128GB. Further specs are a 20.7-megapixel rear camera, a 5.1-megapixel front-facing shooter, and 2930 mAh battery. It runs the Android 5.0 Lollipop operating system.
On the other hand the OnePlus One has a 2.5GHz Snapdragon 801 quad-core processor, Adreno 330 GPU, and a 5.5-inch display with 1920 x 1080 resolution. It has 3GB of RAM, and internal storage models of 16 or 64GB (non-expandable). There's a 13-megapixel rear camera, 5-megapixel front-facing camera, and 3100 mAh battery, and it now runs the Cyanogen 12 OS based on Android 5.0.2 Lollipop.
So the question now is, can the older OnePlus One compete with the new Sony Xperia Z3+ as far as speeds are concerned? The YouTube video that we've positioned below this story for your viewing pleasure comes from L BS. It shows a gamut of speed tests of both phones shown alongside each other, such as the Ookla Speedtest, in which the Sony phone achieves the highest scores.
Other tests involve different apps being opened, (Facebook, YouTube and more), web browsing, game loading, AnTuTu and Geekbench tests and more. After each test a mark is given for the winner and the scores counted up along the way. At first it looks as though the Sony Xperia Z3 Plus is going to be a runaway winner, but as testing goes on it's nail-biting stuff. We're not going to ruin the suspense by telling you the result, as you might prefer to find out the overall winner when you watch the video below.
When you've checked it out it would be good to hear your thoughts on the outcome of this speed testing between the Sony Xperia Z3 Plus and OnePlus One. Do drop us your comments in the box below.
https://www.youtube.com/watch?v=URXWHsMHMIM://