Back panels for the Motorola 2015 lineup appear online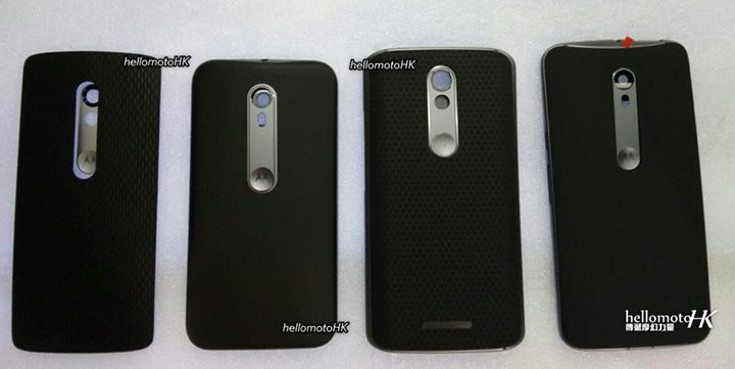 We've spent a lot of time covering upcoming Samsung smartphones lately, but Motorola has numerous devices in the pipeline awaiting release. Well, we've just gotten a doozy of a leak as rear panels have surfaced showing four unannounced Motorola smartphones.
The Moto X and Moto G 2015 edition have been running through the rumor mill for months, and we all know an announcement is on the way. We've seen a several renders and blurry photos pop up over the past few weeks, but today we're getting a look at the Moto G 2015 and Moto X 2015 rear panels along with two other Droid devices.
The photos come from HelloMotoHK, a site that has leaked plenty of Motorola information in the past. All four devices have that same silver back piece in the middle, but one device stands out from the pack. From left to right, the back panels are said to belong to the DROID Mini 2015, Moto G 2015, and unnamed DROID smartphone, and the third-generation of the Moto X. It may seem like a lot of handsets and too good to be true if you're a Motorola fan, but it lines up nicely with all the previous information.
The new Moto X and Moto G are locks and their back panels are in line with everything we've seen thus far. The DROID Mini 2015 would obviously mimic its big brother when it comes to style, and the new DROID should be the follow-up to last year's popular handset from Big Red. That patterned back also looks like it would belong on the sequel. Several of the handsets have already cleared the FCC as well, so we believe it's just a matter of time before we hear something official.
Motorola will have a little something for everyone this year, and we've got our fingers crossed they'll expand Moto Maker availability to more devices in thier 2015 lineup. We may not know any of those release dates yet or what the new DROID will be, but we fully expect the leaks to increase as we get closer to September.
via – Phonearena     source: HellomotoHK