Nexus 5 2015 scores high in benchmark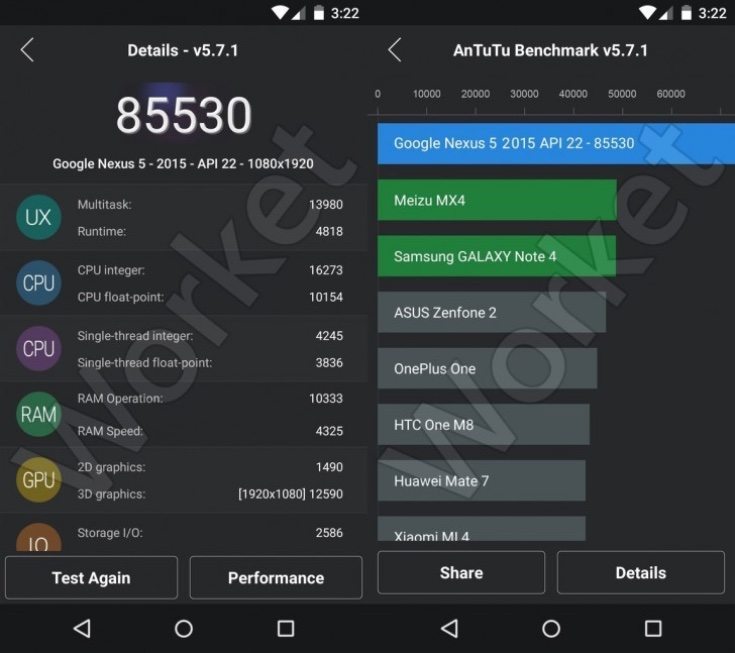 Google has been doing a pretty good job in keeping details of the next Nexus smartphone quiet. However, for some time there have been leaks and rumors suggesting there may be two new Nexus 2015 handsets, one from LG and the other from Huawei. Now there's some further news as a new Nexus 5 2015 phone has scored high in benchmarking, suggesting this could be a very tasty device.
Although the name of the Nexus for 2015 isn't yet known, there have recently been rumors that it may simply be the Nexus 5 (2015). The LG-made Nexus 5 was hugely popular but the Nexus 6 that released last year didn't hit such a sweet spot with buyers, mainly because of its sheer size and also high price. This latest leak backs up the name, as an AnTuTu 5 benchmark spot shows a device called Google Nexus 5 2015.
A screenshot of the AnTuTu 5 benchmark score on the LG phone shows a whopping score of 85530. That's remarkably high, placing it above current leading handsets such as the Samsung Galaxy S6 and S6 Edge flagships by more than 20000 points. Because of this result it seems likely that the Nexus 5 2015 could be using a next-generation Qualcomm Snapdragon 820 chip.
Another snippet we can take from this benchmark appearance is that the Nexus 5 2015 has a display with Full HD resolution of 1920 x 1080. There's no doubt that some will be surprised at this considering that many new top-end handsets now have Quad HD resolution displays of 2560 x 1440, including the Nexus 6. However, it may be the case that this was felt unnecessary for a smaller Nexus 5 (2015). Recently we reported on rumors of a new design for an LG Nexus 2015 phone, and many expect a smaller size.
We'll point out as usual that this is leaked information and so we should treat it as unconfirmed at this stage. The new Nexus is due to release later in the year and will of course be running Android M out of the box. Over the coming weeks and months we expect more leaks to surface and will bring you developments as we hear them.
Are you eagerly waiting for a new Nexus smartphone? What are your thoughts on this benchmark appearance for a device called the Google Nexus 5 2015?
Source: WCCFTech
Via: GSMArena