Samsung Galaxy S6 comes free with some 4K TV purchases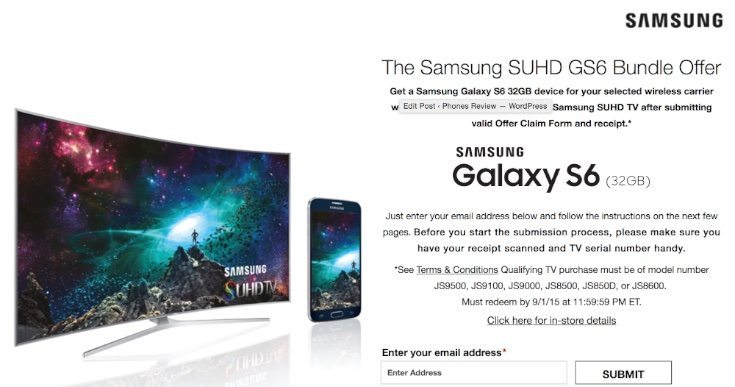 If you have your eye on the Samsung Galaxy S6 but haven't got round to making your purchase yet, we have some interesting news for you. This particularly applies to those who are also thinking of getting a new TV. Intrigued? We have details of a US promo where a Samsung Galaxy S6 comes free with some 4K TV purchases.
Samsung is currently running a promotion whereby buying one of several high-end 4K SUHD TVs gets you a free Galaxy S6. Obviously purchasing a TV just to get a free smartphone isn't a wise idea, but if you were planning on getting a new TV anyway this is worth thinking of. Six different Samsung 4K SUHD TVs are tied in with this promo, and they are model numbers JS8500, JS850D, JS8600, JS9000, JS9100 and JS9500.
Prices for these TVs begin at $1,497.99 and go right up to an eye-boggling $8,997.99. Those who purchase one of these under the promotion can get their free Samsung Galaxy S6 32GB model by scanning the receipt and then submitting it with a valid Offer Claim Form to the Samsung website. You'll also need to supply the serial number of your newly purchased TV.
If you'd rather have the Samsung Galaxy S6 Edge you can get a discount on this handset instead that makes the price $400, around $400 cheaper than the regular price. However, sticking with the free standard 32GB Galaxy S6 represents a bigger saving, as its unlocked price is usually around $550. You have plenty of time to take advantage of this current offer as the promo runs until midnight September 1st.
You can see full details and the small print of this Samsung SUHD GS6 Bundle Offer promotion at the Samsung source below. Meanwhile if you want to see much more on the Galaxy S6 you can head to any of our previous articles on the phone from this page. Are you planning on benefitting from this current promo to receive a free Samsung Galaxy S6?
Source: Samsung
Via: Android Authority