Sony Xperia Z3 Plus vs Xperia Z2, Z1 and Z Internet speeds tested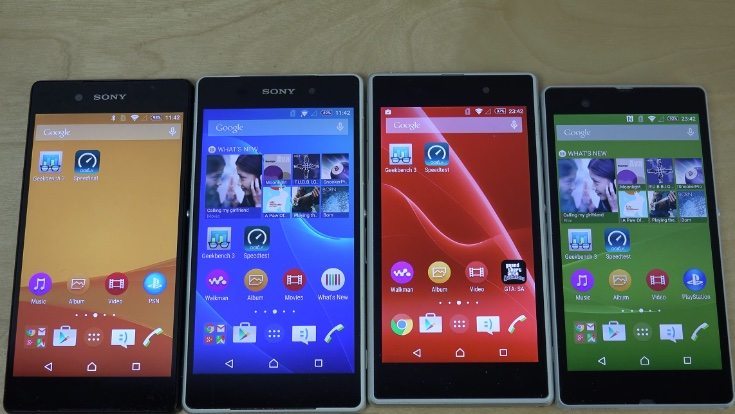 Sony confused a few buyers this year by releasing the much-awaited Xperia Z4 in Japan and then releasing an international variant dubbed the Sony Xperia Z3 Plus (or Z3+) for other markets. Sometimes it can be interesting to see particular aspects of a new flagship smartphone compared to older versions. With that in mind we have a Sony Xperia Z3 Plus vs. Xperia Z2, Z1 and Z Internet speed test to share.
The Xperia Z3+ released last month and is currently making its way into the hands of more buyers. It's powered by a Snapdragon 810 octa-core processor (four cores at 2GHz and four at 1.5GHz), has Adreno 430 graphics, and a 5.2-inch IPS LCD display with Full HD resolution of 1920 x 1080. There's also 3GB of RAM, 32GB of internal storage (expandable), a 20.7-megapixel rear camera, 5.1-megapixel front-facing unit, and 2930 mAh battery. This phone runs the Android 5.0 Lollipop OS.
Given its specs the Sony Xperia Z3 Plus should be well equipped to get a speedy Internet test result, and obviously as the latest of the Xperia Z lineup it's likely to beat the earlier handsets. How much by is more of a question, and the short YouTube video that you can see below will illustrate this. It comes from regular YouTuber Adrianisen and begins with showing from left to right the Xperia Z3+, Xperia Z2, Xperia Z1, and Xperia Z lined up alongside each other.
The Ookla Speedtest app is then opened and each handset in turn is put through its paces using the same server each time. You'll then see download and upload speed results and be able to compare them. There's a hugely noticeable difference between the speeds attained by the Z3+ and the other three handsets, although we won't give away just how big the gap is. You may also be surprised at how close the results of the older three phones are.
When you've checked out the video below we'd like to hear your opinions on these Internet speed test results for the Sony Xperia Z3 Plus, Z2, Z1 and Z. Do let us know in the comments box below.
https://www.youtube.com/watch?v=-cT71NyrdtY://