Samsung Galaxy S6 and Edge 128GB availability ceased for some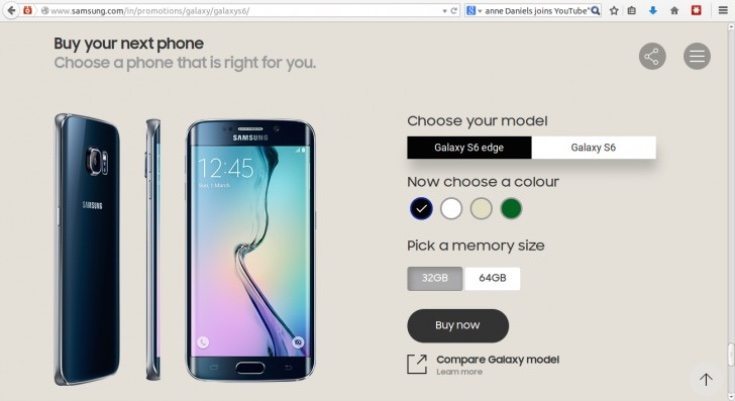 If you were thinking of purchasing the higher storage option of the Samsung Galaxy S6 or Galaxy S6 Edge, you might want to consider buying one sooner rather than later. News is that availability of the 128GB models of the Samsung Galaxy S6 and Edge version has been ceased in some markets. It's not yet clear whether this will also happen for other regions.
These Samsung smartphones released earlier this year and came in three different models for internal storage, 32, 64 and 128GB. As the latest Galaxy S flagships no longer have expandable storage, many potential purchasers were pleased to see 128GB models released. However, high pricing for these premium models soon deterred some buyers.
Now it appears that the 128GB variants of the Galaxy S6 and Galaxy S6 Edge have been discontinued in India and also the Netherlands. Looking at the Samsung India website for example, reveals only the 32GB and 64GB versions of both handsets, with no mention of the largest storage option.
Other Samsung websites have been checked including the sites for the UK, Australia, Canada, and Singapore, and in all of these the 128GB models are still listed. However, it certainly seems a possibility that sales of the larger variants could also be halted in other regions before too much longer. While we don't know for sure, you might want to bear this in mind if you were dallying with the idea of a purchase.
The Samsung Galaxy S6 and S6 Edge have both sold in high numbers. However, it could be that the extremely high pricing of the 128GB variants was simply too exorbitant for many buyers. We're interested to see if the 128GB models are also pulled from sale in other regions and we'll be keeping a close eye on this.
What are your thoughts on sales of the 128GB models of the Samsung Galaxy S6 and S6 Edge being halted in some markets? Would you be surprised if these options are removed from sale entirely? Let us know with your comments.
Source: MakTechBlog
Via: GSMArena