Man Utd transfer news via app, Pedro, Ramos, Di Maria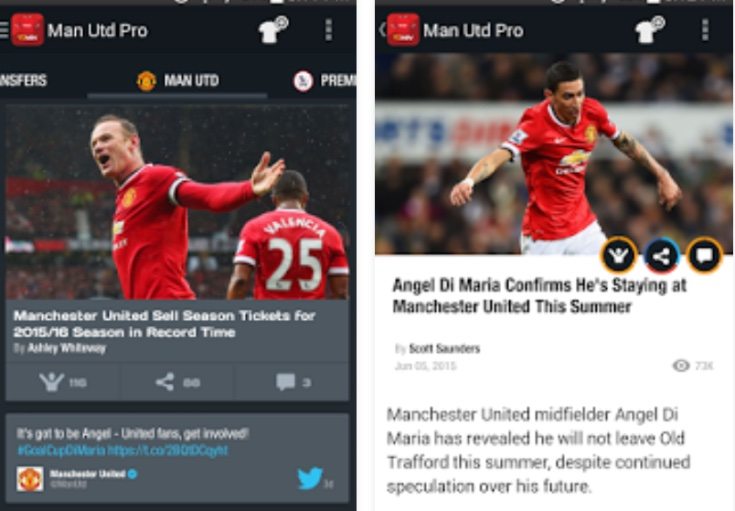 Football transfer rumours are flooding in thick and fast at the moment, and Manchester United fans are eager to find out all the latest deals and gossip. One of the best ways of keeping informed is with your smartphone or tablet, and today we have details of how you can get Man Utd transfer news via an app. This way you can get all the latest on Pedro, Ramos, Di Maria, De Gea and more.
One of the best football apps out there for Red Devils fans is Man United — 90 min Edition. It's a free app available for Android and iOS devices, and it's extremely highly rated by users. It earns 4.5 out of 5 on the Google Play Store and a whopping 5 out of 5 on the App Store. We've written about this app before, as it's one of our most highly used football apps. However, since we last reported on it the app has been updated. The Android version received an update at the end of last month, and the iOS version in May, so the app now has even more to offer.
This Manchester Utd app is invaluable, both during the season and also for transfer news. It will bring you all the breaking club news, fixtures, results, tables, video content, and live scores. Where it's especially useful during the summer transfer window is keeping you in the loop with all the latest. Users of the app can receive live feeds for the most up-to-date news, and can also receive push notifications for live match updates and major breaking news. This way you'll always be among the first to know what's going on.
News articles are being added to the app all the time, and just today there's Man Utd transfer news that Paris Saint-Germain expect to tie up a deal for Angel Di Maria very soon. There's also a section on transfer news for the whole of the Premier League. A World News section also discusses the future of Zlatan Ibrahimiovic who has been linked to a move to Man U. However, for those still hoping for a return by Cristiano Ronaldo, it's reported that Real Madrid will not sell him at any price.
If you want to check out the iOS version of the Manchester Utd 90min app you can download it from iTunes. It's free and compatible with iPhone, iPod touch, and iPad running iOS 7.0 or later. The Man Utd 90 mins for Android is at Google Play and is compatibility varies by device.
Are you going to check out Man Utd 90min for all the latest transfer news? Do let us know what you think of it by using the comments box below.