Sony Xperia Z5 Made for Bond collaboration?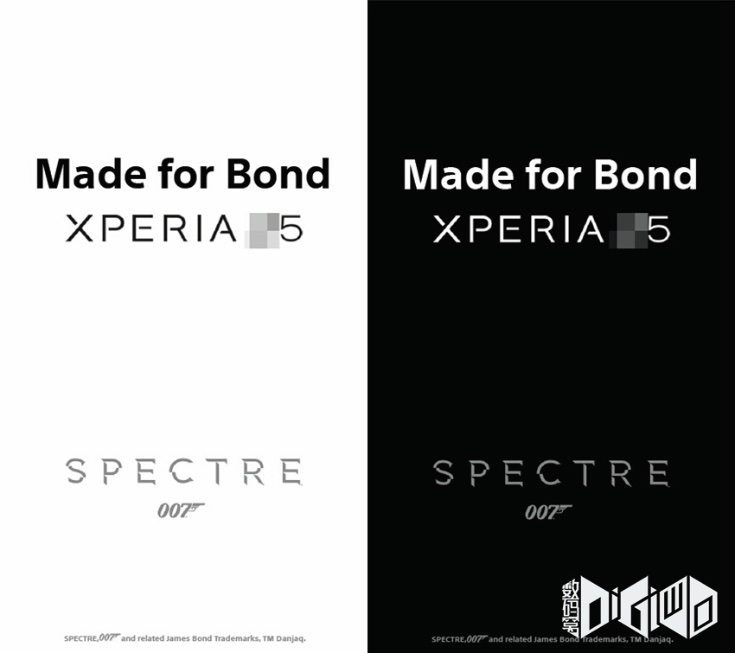 Now here's an interesting tidbit for a quiet afternoon. There are plenty of Sony Xperia fans that know all about the recent Xperia Z4 and Z3+ releases, and an Xperia Z5 has already been tipped for later this year. Now there are suggestions that the Sony Xperia Z5 could be a Made for Bond collaboration.
This latest step on the rumor ladder concerns leaked promo images tipping a special James Bond Xperia phone to tie in with the upcoming Spectre movie. The image includes the words Spectre 007, and written above is Made for Bond Xperia *5. The asterisk represents a letter or digit that has been blurred out on the promo images. It's worth pointing out that the pictures also appear to carry the official movie logo.
It's not a big stretch of imagination to think that the blurring hides a Z and that the Sony Xperia Z5 will be a Bond edition smartphone. Spectre is due to debut on November 6 so this also ties in nicely with the Q4 release rumored for the Xperia Z5. Also any device linked with the 007 franchise is bound to be a high-end flagship, again suggesting the Z5.
However, this could be a case of adding two and two together to make 5, as there's really no way of knowing what the blurring hides. It could just as easily be a new letter being used entirely, such as the recently rumored high-end S60 or S70, although the number 5 isn't represented in these. The source of the image has a reliable track record about Sony Xperia device leaks, so it should be interesting to see how this pans out.
If it does turn out to be the Sony Xperia Z5 we can tell you some of the unconfirmed leaked specs for this phone so far. They include a Snapdragon 820 processor, display with Quad HD resolution, and 4GB of RAM. Further unofficial specs are a 21-megapixel rear camera with 4K video capture, and a 4500 mAh battery.
Hopefully it won't be much longer before Sony announces something official about this Made for Bond Xperia phone and we'll give you the news when we hear it. Are you of the opinion that this Bond phone will in fact be the Sony Xperia Z5? Send your comments to let us know.
Source: Digi-Wo
Via: Xperia Blog