OnePlus 2 invites go up for grabs on eBay for Charity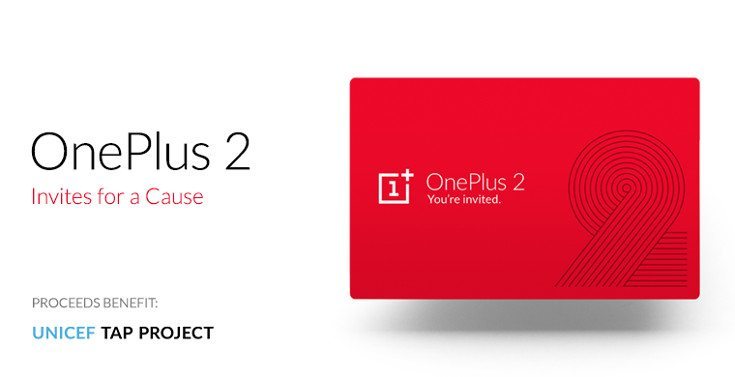 OnePlus has been in the news consistently over the past few weeks, and it doesn't look like that's going to change anytime soon. OnePlus 2 invites have been a hot topic of debate lately, and as expected, they've done something different for the launch of the OnePlus 2.
OnePlus 2 has well over a million customers waiting to get their hands on the OnePlus 2, and the invite system is coming under fire again today. OnePlus 2 invites have been listed on Ebay which may not sound all that strange until you consider OnePlus is the one who put them there. Before you get the pitchforks out, you'll want to know it's a charity-based auction through eBay's giving works program.
The new campaign is dubbed "Invites for a Cause" and will last for 5 days on eBay. The company will auction off 100 global invitations for the handset through eBay, and all proceeds go to the UNICEF Tap Project which brings clean water to children in need around the world. Needless to say, it's good move as helping out charity is never a bad thing.
The OnePlus 2 invites are already up for grabs through OnePlus's eBay shop, but there's one thing you'll want to keep in mind before you drop a bid. The price is for the invitation only, not for the actual phone so you'll still need to purchase the phone if you win the invite. Considering the bids start at the price of the handset itself, it's going to get expensive — currently the top bid is around $1,000 for the Official OnePlus 2 Invite No. 1.
As you might expect, the OnePlus 2 invite through eBay campaign is splitting folks down the middle again. Some think it's another dumb move in the PR department while others applaud the company for their charitable efforts — the truth actually lies somewhere in-between. The move is going to alienate a lot of consumers that are on the fence between the OnePlus 2 and other incoming handsets. On the same hand, it's charity and if someone wants to drop a grand on an invitation to help out UNICEF Tap… what's the problem?
In a nutshell, OnePlus would have been better off listing 50 OnePlus 2 handsets on eBay early instead of the invitations that nobody is fond of anyway. That wouldn't have ruffled anyone's feathers, and would have brought in a boatload of cash for their cause to boot. While the company's PR is still a bit backward, at least it's aimed at a charitable cause this time around. If you're interested in picking up a OnePlus 2 invite through eBay, hit up the link below.