Lenovo Vibe X3 specs appear on new GFXBench listing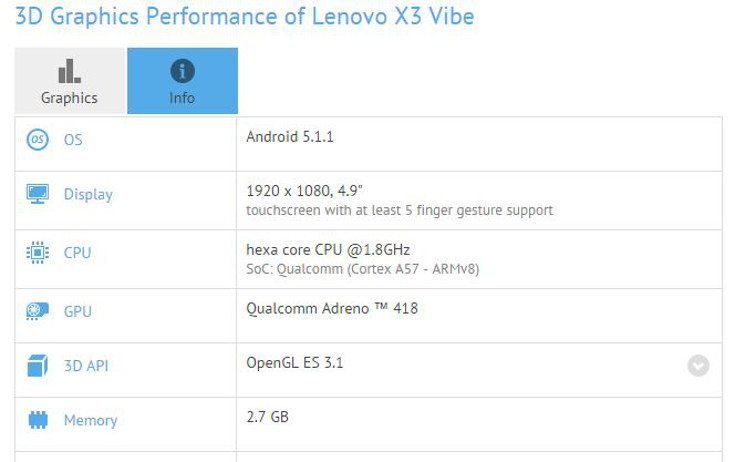 Lenovo has released a slew of handsets this year, but a few are still noticeably MIA. The Lenovo Vibe X3 specs were briefly revealed back in February, but we haven't heard much about the device since then. That changed today and the Lenovo Vibe X3 release date may be getting closer as it just popped up on GFXBench.
We didn't learn much about the Lenovo Vibe X3 specs initially although we knew it would have a fingerprint scanner and sport a premium build. A large 21MP sensor and a solid audio system were also rumored to arrive with the phablet, and while we can't confirm the latter the rear camera is dead on the money.
According to the GFXBench listing, the Vibe X3 will have a 5-inch FHD display, and will be powered by a 64-bit Snapdragon 808 and 3GB of RAM. A microSD card wasn't listed in the Lenovo Vibe X3 specs, but you'll get 32GB of storage to work with. As for the cameras, there is a 21MP snapper on the back to go along with an 8MP sensor on the front. The device comes with a full array of sensors and connectivity options and is listed as running Android 5.1.1.
While the Lenovo Vibe X3 specs listing on GFXBench doesn't tell us anything about when it will launch, it should mean we'll see it before the end of the year. Rest assured, we'll be around to give you the scoop when we learn more about the Lenovo Vibe X3 price and availability.
via — techgadgetsz     source: GFXBench