Lenovo K3 Note vs LG G4 speed testing, budget vs flagship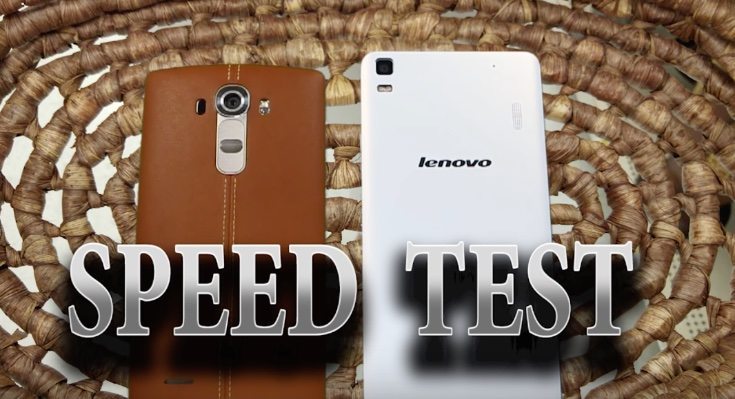 The Lenovo K3 Note is an affordable smartphone with some decent specs for its price. It's at the other end of the scale though from the flagship LG G4 that has top-end specs and a price to match. You would imagine that because of this the LG phone would outperform the Lenovo handset in speed tests. Therefore, you may be interested in this Lenovo K3 Note vs. LG G4 speed testing, in a case of budget vs. flagship.
You can check out our previous articles on the K3 Note and LG G4 at the links provided for fuller information on specs, pricing, and more. As a brief recap we'll tell you that the Lenovo K3 Note has a 1.7GHz MediaTek MT6752 octa-core processor with Mali-T760MP2 graphics, and 2GB of RAM. On the other hand the top-flight LG G4 has a Snapdragon 808 hexa-core processor (2 cores at 1.82GHz and four at 1.44GHz), Adreno 418 GPU, and 3GB of RAM.
They both have 5.5-inch displays but the K3 Note's has Full HD resolution of 1920 x 1080 while the LG G4's has Quad HD resolution of 2560 x 1440. The Lenovo K3 Note runs Android 5.0 Lollipop with Lenovo's Vibe UI while the LG G4 runs the later Android 5.1 Lollipop with LG's Optimus UX 4.0 UI.
Below this article we've embedded a YouTube video from L BS demonstrating speed testing on both of these handsets. The testing is quite extensive and you'll see an Ookla Speedtest with upload and download results followed by a variety of apps being opened to see which is quickest each time. The testing also involves browser speeds, page scrolling, and games being loaded, and then some benchmarking.
Benchmark tests involved include AnTuTu, Geekbench 3, and 3DMark Ice Storm Unlimited, There's a note reminding us that overheating can affect benchmark results, and at the end there's also a bootup test. Throughout the video you'll see a counter on the left for the LG G4 and one on the right for the Lenovo K3 Note. Each time a handset wins a test its counter goes up, so that at the end there's a final result for the speed testing.
We're not going to give away the ultimate score here as you can find out when you view the video below. However, we will say that this speed testing shows that as far as speeds are concerned you don't always get what you pay for with a smartphone! We'd be really interested to hear your opinions on these Lenovo K3 Note vs. LG G4 speed tests and the ultimate victor? Are you surprised at the winner?
https://www.youtube.com/watch?v=E8jqmFIlJbw://