Moto G 3rd gen vs Alcatel Idol 3 budget battle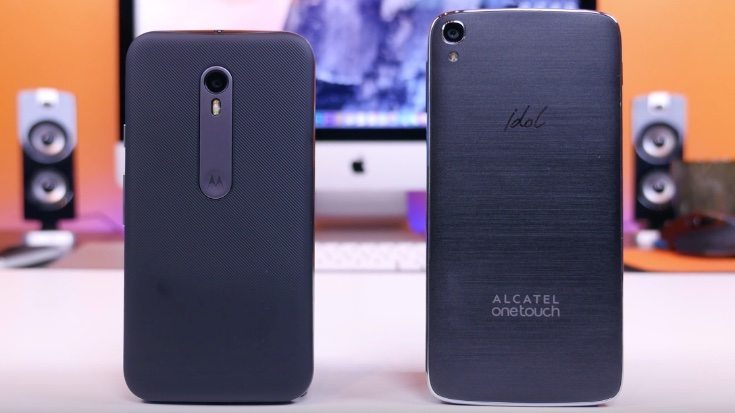 Not everybody wants or needs an all-singing, all-dancing high-end smartphone, and there is plenty of demand for handsets at the more affordable end of the market. The Alcatel OneTouch Idol 3 (5.5) released recently and not long afterwards was joined by the new Moto G 2015. Today we're considering the Moto G 3rd gen vs. Alcatel Idol 3 in a budget battle.
We'll start by pointing out that the Idol 3 is also available with a 4.7-inch display variant, but here we're concentrating on the larger 5.5-inch model. It has an off-contract price from around $250 whereas the third-generation Moto G starts from $180 so is the cheaper option. Although these are quite different handsets in many respects, they do have some aspects in common. For example they are both available in dual SIM versions, both have microSD storage expansion, and also front-facing stereo speakers.
The Moto G 3rd gen has key specs that include a Snapdragon 410 quad-core processor and a 5-inch IPS LCD display with resolution of 1280 x 720 resulting in 294 ppi. It comes in a 1GB of RAM version with 8GB of internal storage or a 2GB RAM model with 16GB of internal storage. Both options have expandable storage via microSD card to 32GB. The phone has a 13-megapixel rear camera, 5-megapixel front-facing snapper, and 2470 mAh battery, and it runs virtually stock Android 5.1.1 Lollipop.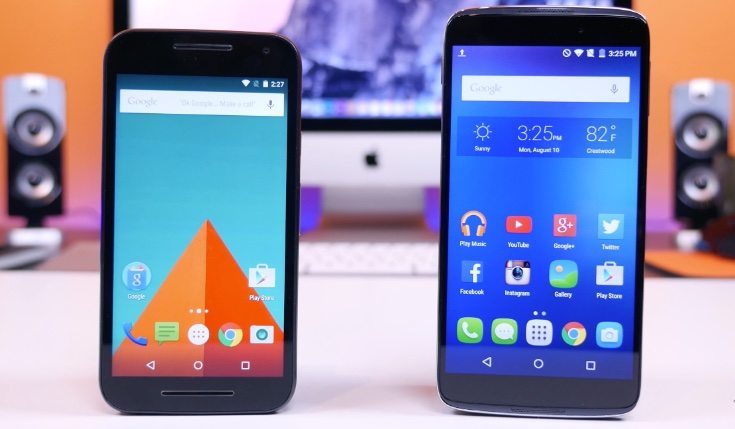 On the other hand the Alcatel Idol 3 has a Snapdragon 615 octa-core processor and a large 5.5-inch IPS LCD display, this time with 1920 x 1080 Full HD resolution and 401 ppi. It has 2GB of RAM and 16 or 32GB models for internal storage, expandable with microSD to 128GB. The Idol 3 has a 13-megapixel rear shooter, 8-megapixel front-facing camera, and a 2910 mAh battery, and it runs the Android 5.0 Lollipop OS with a custom skin.
To give you a better idea of features of both phones we've embedded a YouTube comparison of them from PhoneDog that you can see if you scroll down this page. It will give you a chance to see the Moto G 3rd gen and Alcatel Idol 3 alongside each other, and it's clear that the Alcatel phone is by far the slimmer of the two. The video begins by looking at the design and hardware followed by the displays, the internals and performance, and also software.
Other areas covered are the camera performances, battery life (with the Moto G 3rd gen lasting for twice as much time), speakers, and pricing. The video below offers some useful insight into these phones and both are considered among the best budget handsets available. What we hope is that the comparison helps you to decide which might be the best choice for you.
When you've had time to reflect we'd like to hear your opinions. Taking everything into account are you more likely to opt for the Moto G 3rd gen or the Alcatel OneTouch Idol 3?
https://www.youtube.com/watch?v=PtZIYazBwbM://