Nexus 8 tablet in apparent benchmark spot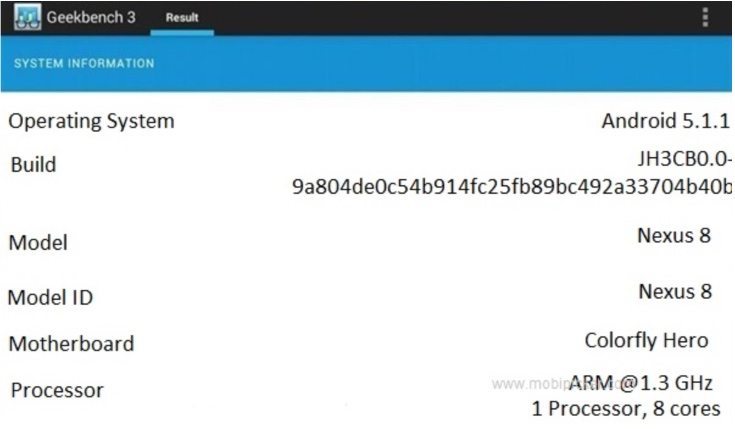 While there has been plenty of news about new Nexus 2015 smartphones (one from Huawei and one from LG), things have been much quieter as far as a new Nexus tablet is concerned. A Nexus 8 tablet turned up on the rumor mill last year but all went quiet again. However, there has now been an apparent benchmark spot for a Nexus 8 tablet, although information at this time is scant.
The Geekbench 3 benchmark test has revealed a device that is listed as the Nexus 8. Unfortunately the appearance of the upcoming tablet in benchmarking doesn't reveal the manufacturer of the device, although we've already seen the Nexus 7 and Nexus 7 2nd gen from Asus, the HTC-made Nexus 9 and Samsung produced Nexus 10.
Data from the filing shows the tablet to have a 1.3GHz octa-core processor, possibly a MediaTek rather than a Snapdragon going by the clockspeed. The device is currently running Android 5.1.1 Lollipop, which may lead to some people thinking it cannot be a Nexus 8. However, this would change before launch when of course it would be running Android 6.0 Marshmallow. The device would be likely to have an 8-inch display.
While we cannot rule out that this is genuinely the Nexus 8, we have to stress that any such device has not been made official yet. This type of information is sometimes faked, hence you need to have a large salt shaker handy. Nevertheless we have to consider that it could be the real deal, and if so we should be hearing much more very soon about the device. If accurate, there would certainly be plenty of interest in it.
What are your initial thoughts on this Nexus 8 benchmark spot? Do you think it's about time to see a new Nexus tablet? Drop us your comments in the usual way by using the comments box below.
Via: MobiPicker AND Phone Arena