Huawei Watch release date and pricing leaks through retail listing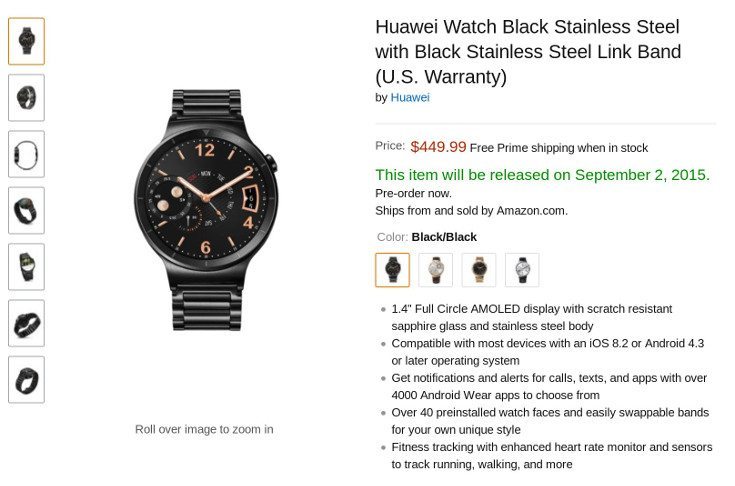 Amazon carries a little bit of everything these days — including smartwatches. The Huawei Watch release date has mysteriously appeared in an Amazon listing, and it looks like people may be able to get their hands on the wearable very soon.
It's not uncommon to see devices leak early, and Amazon has let a few slip over the years. The Huawei Watch release date appeared earlier today as September 2nd on the site, which is a little sooner than we expected. That said, Huawei has since come out with a statement about that early listing.
Earlier today, incorrect information about the upcoming launch of the Huawei Watch was published on a partner website. We have nothing to announce at this time. Stay tuned for more details next week.
As you'd suspect, the listings have since disappeared but not before screenshots were captured to give us new details on the Huawei Watch. So far, five different models of the Huawei Watch have been listed with a Stainless Steel and Black, Black on Black stainless, Gold plated Stainless and Brown, Gold Plated Stainless, and regular Stainless. The price varies, but you're looking at $349 to $799, which is about what we expected based on previous pricing rumors.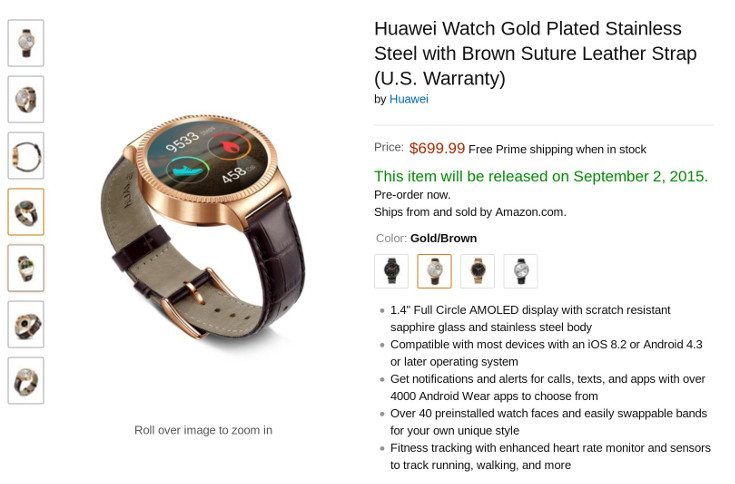 While the Amazon listing has been pulled, it appears as if the Huawei Watch release date is right around the corner. Even with the company's statement, we believe they'll want to get the jump on Sammy and the rest of the competition set to roll out after IFA wraps up.
What do you think of the Huawei Watch pricing if it's legit?
via – Android Police