Huawei Honor 4X, 4C, 6, 6 Plus Android Lollipop updates for India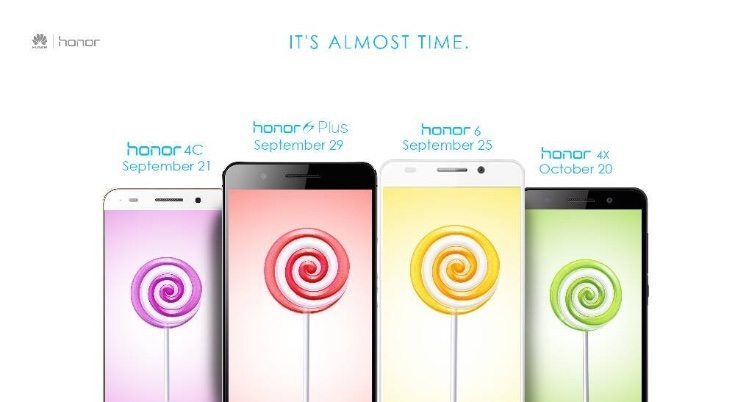 While many of us are gearing up for the release of Android 6.0 Marshmallow, there are plenty of device owners still waiting for Lollipop. There's some good news today for some Huawei Honor smartphone owners though, as the company has now given information on the Huawei Honor 4X, 4C, 6 and 6 Plus Android Lollipop updates for India.
The fragmentation of the Android platform means that once a new update arrives it can take varying amounts of time to reach different devices and different regions. It may have seemed like quite a wait but users of the above Huawei Honor smartphones will be pleased to know that their handsets are finally going to receive the Lollipop update.
The updates for the Huawei Honor 4X, 4C, Honor 6 and 6 Plus will start rolling out in September and Honor has actually pinned down specific dates in the announcement on Facebook. If you have the Huawei Honor 4C then your device will be first to receive the Android Lollipop update as it's scheduled for September 21st. The big day for the Huawei Honor 6 is September 25th while for the Huawei Honor 6 Plus it's September 29th. Owners of the Huawei Honor 4X will have to wait the longest as the update is scheduled for October 20th.
The Lollipop update for these devices will also bring Huawei's Emotion UI 3.1, but sadly there's no news yet on this upgrade for the budget Honor Holly and Honor 3C. Benefits of Android Lollipop include the new Material Design look with more responsive UI, improved notifications, increased security measures, flexible sharing, performance optimizations and much more.
If you are a Huawei Honor 4X, 4C, 6 or 6 Plus user are you pleased to hear that the Android Lollipop update is finally on the way for your device? We always appreciate your comments so do let us know.
Source: Honor India (Facebook)
Via: Fone Arena