Galaxy S6 vs Galaxy S6 on Note 5 ROM bootup speed test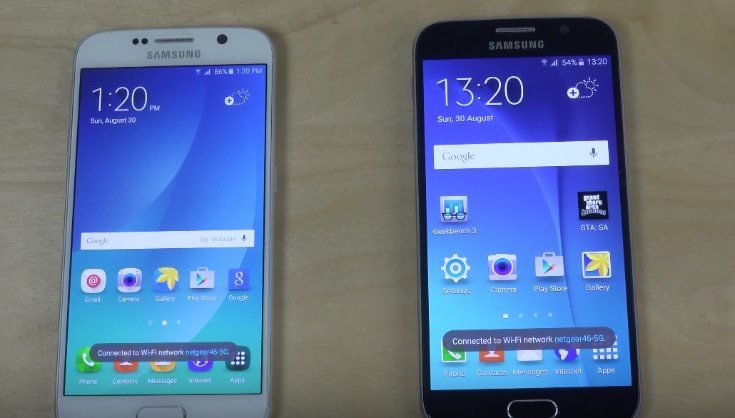 Now here's an interesting idea. Why not compare the bootup speed of a Samsung Galaxy S6 vs. Galaxy S6 on a Note 5 ROM? That's just what we're showing you today in some bootup testing involving two of Samsung's flagship units side-by-side. This follows nicely on from another video we shared yesterday of a review of the S6 on a Galaxy Note 5 ROM port.
The previous review video showing the Galaxy S6 using a Note 5 ROM was interesting enough that we thought readers would also enjoy this one. Once again the YouTube video comes from Adrianisen and the white S6 on the left is the one using the Note 5 ROM. It begins with a bootup speed test where both handsets are simultaneously powered up to see what one is up-and-running first.
In fact the bootup is repeated for a consistent result, and on both occasions the Galaxy S6 on the Note 5 ROM is faster. Following this, the reviewer heads into Settings on both phones and we can see that they are both running Android 5.1.1. Some apps are also opened up and speeds here are very close.
The video also offers the chance to see some of the differences of the two handsets between the stock S6 and the one the Note 5 ROM, including new icons and an extra column of apps. Further aspects are also demonstrated to give an idea of how they compare, although the most interesting part is really the bootup speed results.
After you've had time to check out the video below we'd be pleased to hear from you. Are you surprised that the Samsung Galaxy S6 on the Galaxy Note 5 ROM was quicker to boot up than the regular S6?
https://www.youtube.com/watch?v=ZwGe_eZ1aaU://