Galaxy Note 5 vs iPhone 6 bootup speed test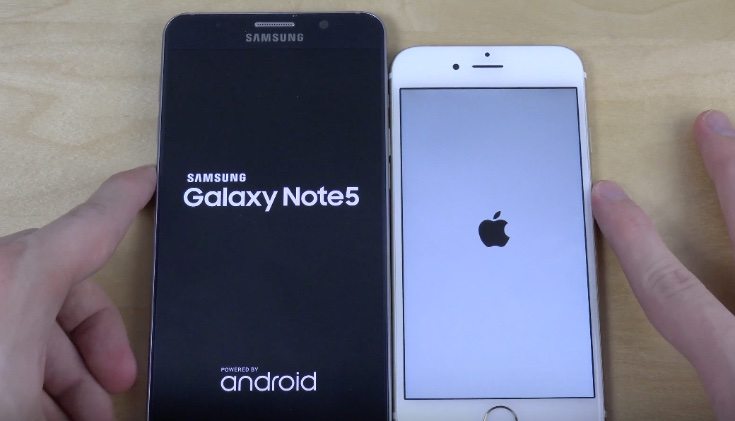 The Samsung Galaxy Note 5 is a recent addition to the market while the Apple iPhone 6 released last year. As Android and iOS devices respectively, fans are staunchly loyal to either platform. Therefore comparing the smartphones in various types of speed testing can be interesting. Today we have a Galaxy Note 5 vs iPhone 6 bootup speed test and it's time to guess the winner!
Specs of the iPhone 6 look positively dated compared to the Android Galaxy Note 5. However, specifications aren't everything and many will argue that software optimizations make a big difference to devices. Key specs of the Galaxy Note 5 include an Exynos 7420 octa-core processor, Mali-T760MP8 graphics, and 4GB Of RAM, with a whopping 5.7-inch display with Quad HD resolution of 2560 x 1440 to be powered.
By comparison the iPhone 6 has an Apple A8 dual-core processor, PowerVR GX6450 quad-core GPU, and just 1GB of RAM, with a 4.7-inch display with resolution of 1334 x 740. To be fair we should also point out that the Galaxy Note 5 has only just hit the shelves while the iPhone 6 is nearly a year old.
On the face of it the Galaxy Note 5 is likely to be a sure victor in the test that you can see below. The YouTube video comes from Adrianisen and shows the two devices alongside each other. Both handsets are then simultaneously switched on to see which is ready for action first. It's a closer result than you might imagine given the specs differences. Nevertheless there is a clear winner, although we're not going to ruin the suspense by giving that away before you watch the video!
After the bootup testing the reviewer goes on to show some other aspects so that you can compare further speeds. Various apps are opened and then there's a look at multitasking as well. What will be really interesting is to see the bootup speed test performed again between the Galaxy Note 5 and iPhone 6S that is due to be announced in just a few more days. Hopefully we'll be able to show you that at a later date.
After you've taken a look at the video of the bootup with the Galaxy Note 5 vs iPhone 6S we'd like to hear from you. Your comments are always welcome.
https://www.youtube.com/watch?v=h-AaHkHQdR0://