Yu YU5050 specs reveal before launch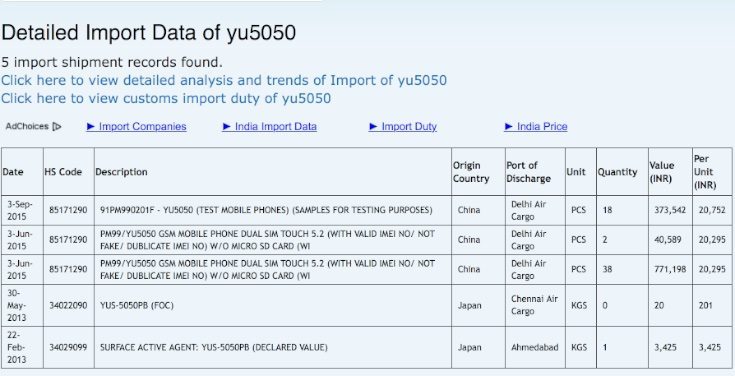 Yu smartphones have been very well received so far and many buyers are eager to see new devices launched at an event taking place tomorrow (September 8th). One of these seems likely to be the Yu YU5050 and some specs have been revealed before the launch from different listings. Make no mistake this is going to be a high-end handset likely to get plenty of people excited, so read on for more.
The Yu YU5050 has now made appearances on Geekbench as well as Zauba, and these sightings give us some details of the phone. It's set to have a 1.55GHz Snapdragon 810 octa-core processor, a 5.2-inch display (probably Full HD), and a sizeable 4GB of RAM. When it releases it will be running the Android 5.1.1 Lollipop-based Cyanogen OS 12.1.
The import listing reveals a unit value for the Yu YU5050 of Rs. 20,295 although this is rarely the final sale price. However, this does indicate that the price is likely to be sub-Rs. 25,000. At the event tomorrow we are hoping that this will be just one of the devices launched, perhaps along with the YUAPB1000 10000mAh power bank and Yu Yubic Bluetooth speaker.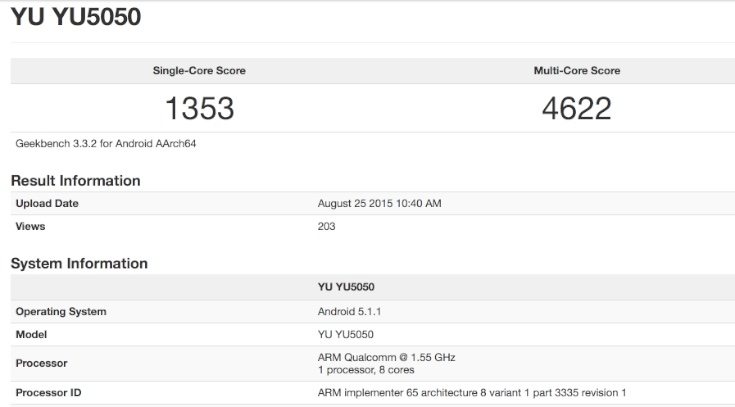 Another possibility is the launch of the Yu YU4711, which has also been spotted in Geekbench benchmark testing. However the Zauba database only lists components of this one being imported. From what we can see so far the Yu YU4711 will be equipped with a 1.21GHz Snapdragon 410 processor and have 1GB of RAM. Android 5.1.1 Lollipop is also showing for this device and it's thought that it could be a lesser version of the Yu Yuphoria.
We'll bring you news from the Yu event tomorrow so fingers crossed that we'll have confirmed specifications, an availability date, and price for the Yu YU5050 then. Are you eager to hear the full details of this upcoming Yu smartphone?
Sources: Zauba AND Geekbench
Via: Fone Arena