Lumia 950, 950 XL official unveiling set for October 6 event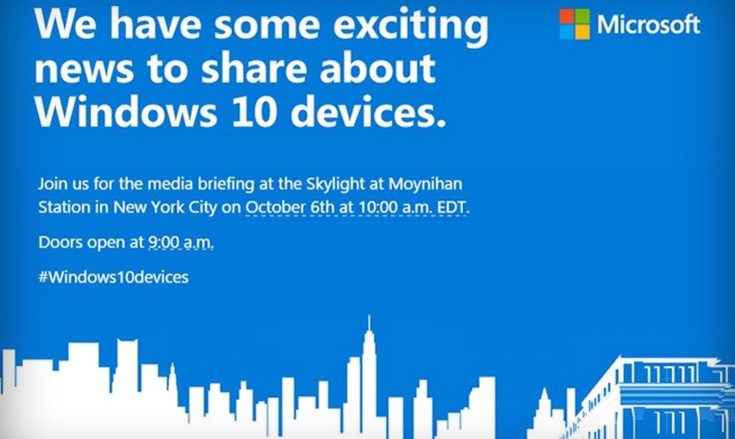 We have some great news for many people who have been patiently (or not so patiently) waiting for the Microsoft Lumia 950 and Lumia 950 XL to be formally announced. We had previously heard rumors of an October event but nothing was confirmed at that stage. Now the Lumia 950 and 950 XL official unveiling is set for an October 6 event.
To say there's a big amount of anticipation for some new high-end Lumias is a massive understatement. We've been tracking developments on these upcoming flagships for some time now, and if you want to find out much more about the Lumia 950 or 950 XL you can check out what we think we know so far at the links.
These will be the first smartphones to release running Windows 10 Mobile, and we know from comments and emails we've received that many readers are craving a release date. Previously we had reported on a rumored October 19 launch, and then last week a new leak suggested it would take place on October 10. However, all doubt now appears to have been removed, with news that Microsoft is sending out invitations for an October 6 event in New York.
Although the invites don't tell us exactly what will be revealed, they do say that there is exciting news about Windows 10 devices. Therefore we expect the Microsoft Lumia 950 and Lumia 950 XL, and there's also anticipation that the Microsoft Surface Pro 4 may also be unwrapped.
Specs leaks about the two new Lumia handsets so far look extremely promising. There are expectations of Quad HD resolution displays, 3GB of RAM, 32GB of internal storage (expandable), 20-megapixel rear cameras, and 5-megapixel front-facing cameras. The Lumia 950 is thought to have a Snapdragon 808 processor while the larger Lumia 950 XL will pack a Snapdragon 810.
Are you now eagerly waiting for October 6 to roll around? What are you most hoping to see included in the Microsoft Lumia 950 and 950 XL?
Source: The Verge