Samsung Galaxy J7 vs Galaxy J5 in mid-range battle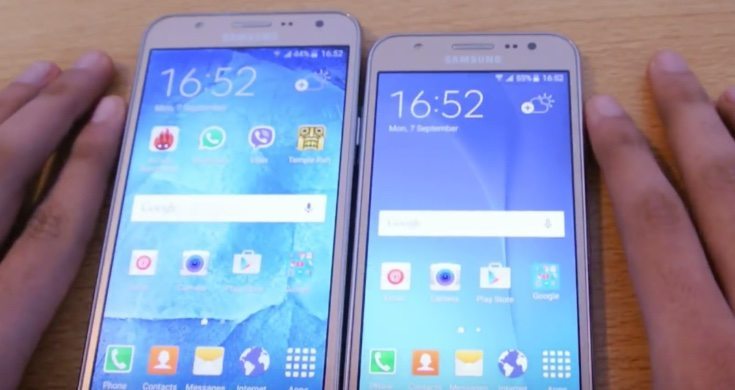 Two Samsung smartphones that arrived this summer were the Galaxy J7 and Galaxy J5. The first of these is the most expensive of the two but they are both mid-sector handsets that have more affordable price tags than flagship devices. If you're trying to choose between them you might appreciate a video comparison showing the Samsung Galaxy J7 vs Galaxy J5 in a mid-range battle.
Back in July we published a specs comparison of the Samsung Galaxy J7 vs Galaxy J5 and you can check that out at the link for full specs and more. Sometimes though, it can be useful to take a closer video look at two devices before making a choice between them and that's why we're showing a YouTube video from XEETECHCARE.
Although there are some similar specs there are also some important differences and those are made clear in the comparison. We've positioned the video below this story and it will enable you to see both devices side-by-side so that you can get an idea of the size difference. It goes on to discuss the design and build of the phones and shows a tour around the handsets.
The comparison also covers the software experience of the phones, processors and performance, storage, camera capabilities, pricing and more. At the conclusion of the video the reviewer notes that battery life on both handsets is among the best he's ever seen for a mid-range Samsung phone. The video offers a handy look at both devices and hopefully will help you to decide which would suit your needs and your budget best.
After watching the Samsung Galaxy J7 vs Galaxy J5 video below we'd appreciate your thoughts. Are you going to opt for the Galaxy J7 or Galaxy J5 smartphone? Do let us know by sending us your comments.
Source: YouTube
https://www.youtube.com/watch?v=Z6gR9uw7HaU://