New Amazon Fire tablet is entry-level with low price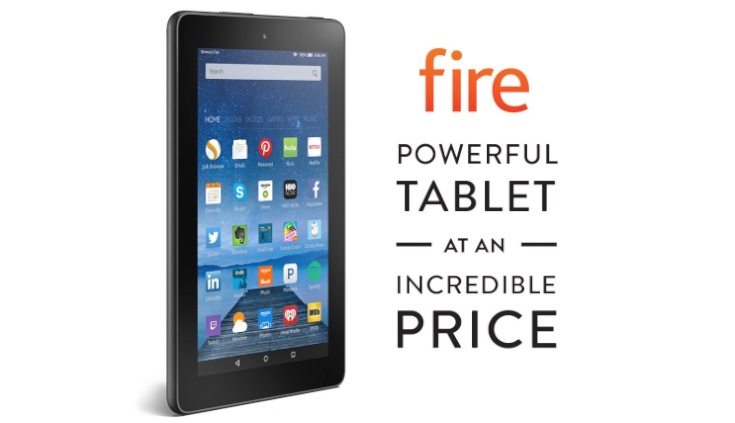 It's probably good to just forget the Amazon Fire smartphone after its lukewarm reception but the giant retailer has now made the new 7-inch Amazon Fire tablet official. The Amazon Fire tablet is entry-level with a low price of only $49.95. Before you say it that's not a typo, and believe it or not if you buy a six-pack you'll get one free!
We've been hearing rumors of a low-end Amazon tablet and the 7-inch tablet has just been officially unwrapped. As you would expect from its price, the specifications are nothing to write home about. However, you can't argue with the price. Specs of the Amazon Fire tablet include a 1.3GHz quad-core processor, and a 7-inch IPS display with 1024 x 600 resolution and 171 ppi. It has a 2-megapixel rear camera with 720p video capture and a VGA front-facing camera.
Further specs include 1GB of RAM and 8GB of internal storage. Only 5GB is user available but it can be expanded to 128GB via microSD card and for Amazon content there's unlimited cloud storage. The Amazon Fire tablet runs a forked version of Android dubbed Fire OS5 Bellini that doesn't feature any Google services or apps. However, it does come with the Amazon App Store and the company's large content library.
The new Fire tablet measures 191mm x 115mm x 10.6mm and weighs in at 313g. For only $49.99 it will be interesting to see if the Amazon Fire tablet is more successful than the Fire phone counterpart. If you want a bunch of tablet gifts for the upcoming holiday season, you can currently purchase 5 of the tablets and get the sixth free and pay just $249.95 with the code FIRE6PACK.
The release date of this tablet is September 30 and pre-orders are already open. What are your first thoughts on the new 7-inch Amazon Fire tablet and its very affordable price? Would you buy one for yourself or as a reasonably priced gift?
Source: Amazon
Via: Phone Arena