Amazon Prime promo cuts the price to $67 for today only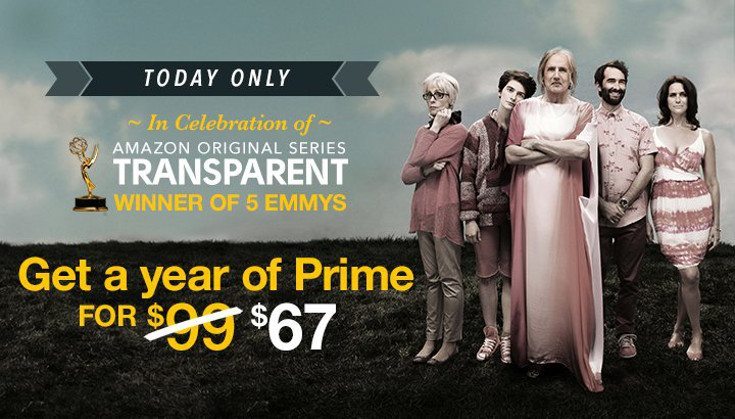 We love a good sale, and like millions of folks around the globe, we buy a lot of swag from Amazon. If you've longed to try Amazon Prime, but didn't want to shell out a Franklin, today is your lucky day as the service has just gone on sale.
Amazon is holding a one-day sale today that drops the price of their Amazon Prime service from $99 to only $67 which is quite the bargain. The deal comes to celebrate one of the Amazon Prime Originals cleaning up at the Emmy's as Transparent racked up a whopping five statues. Prime is more than just a platform for Amazon's original show though, so here's what you can expect from your subscription if you're not familiar with the service.
The big draw of Amazon Prime is shipping. Member enjoy free two-day shipping whether it's a pack of tube socks or a 60-inch 4K TV. You also receive discounts on next-day shipping and several other perks (music, e-books) as well. The other half of the equation is the company's streaming catalog to which you'll get full access. It's basically their version of Netflix (but with HBO shows) and your subscription allows you to stream your brains out for a year.
Amazon usually only runs a couple of Prime promos a year, so you'll want to act on this one if you've been thinking about trying out the service. The promo is live today through 11:59 PT and you can get more info or sign up at the link below.