ZTE Axon tablet gets benchmarked with Snapdragon 810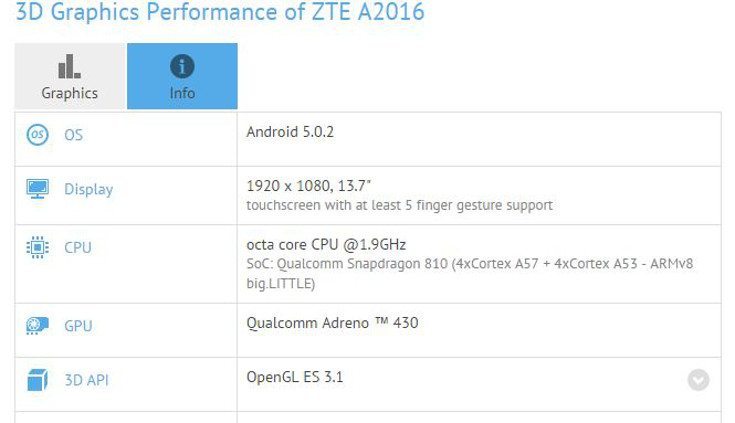 ZTE surprised a lot of folks with the Axon smartphone release, and we've seen several variants as well. The ZTE Axon tablet looks to be the company's next product, and it's we've just gotten a look at the specs thanks to a new benchmark listing.
The ZTE Axon tablet has shown up on GFXBench, and it's safe to say it' something we didn't see coming. It's also a pleasant surprise as it's not your average slate, and it has a couple of features that will help it stand out. One of them is the display as the Axon tablet specs show it will sport a large 13.7-inch panel with a resolution of 1,920 x 1,080. It's not QHD, but it will get the job done and save on the battery life as well.
While we don't know the size of the juice box powering the ZTE Axon tablet, we do know where the horsepower comes from. The ZTE Axon tablet specs show a Snapdragon 810 coupled with 3GB of RAM and there's 32GB of storage as well. Other options to note include an 8MP rear camera, 2MP front-facing camera, a microSD card slot, NFC, and 4G LTE. The slate carries the model number ZTE A2016 and is currently listed as running Android 5.0.2.
We aren't sure where or when the ZTE Axon tablet will land, but it should be affordable like the rest of the company's products thus far. We expect to hear something official soon with the busy holiday shopping season approaching, and will keep you in the loop as we learn more about the ZTE Axon tablet release date and price.
via – Phonearena    source: GFXBench