iPhone 6S vs 6S Plus vs Galaxy S6 benchmark test result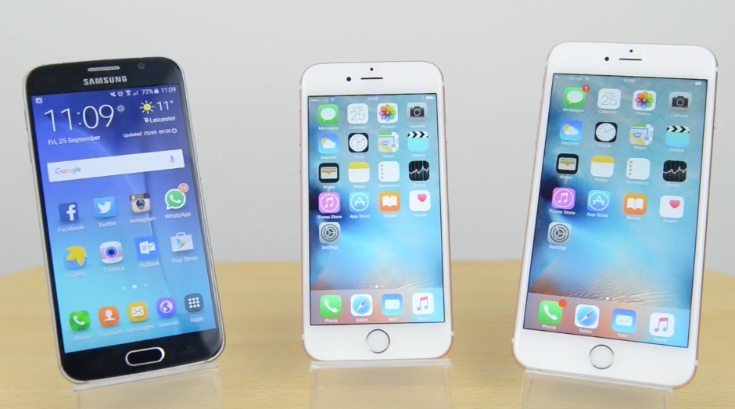 When highly anticipated top smartphones arrive it can be good to take a look at how the benchmark speeds compare with other popular devices. The Apple iPhone 6S and iPhone 6S Plus have just hit the shelves and one of the top rivals to these handsets is the Samsung Galaxy S6 that released earlier in the year. We're sharing a video showing the iPhone 6S vs 6S Plus vs Galaxy S6 in a benchmark test and result.
You can check out much more on the iPhone 6S, 6S Plus or Galaxy S6 at the links, but we'll give a refresher of the key specs of each. The iPhone 6S and 6S Plus are powered by an Apple A9 dual-core processor, with PowerVR GT7600 graphics, and 2GB of RAM. The smaller of the two has a 4.7-inch display with resolution of 1334 x 750 while the Plus version has a 5.5-inch display with resolution of 1920 x 1080. Both run Apple's new iOS 9, upgradable to iOS 9.0.1.
On the other foot the Samsung Galaxy S6 has an Exynos 7420 octa-core processor, Mali-T760 MP8 graphics, and 3GB of RAM. It has a 5.1-inch display with resolution of 2560 x 1440 and runs the Android 5.1.1 Lollipop operating system. The short video that we've embedded below comes from SuperSaf TV and shows a Geekbench 3 test being conducted on the iPhone 6S vs 6S Plus vs Galaxy S6.
The speed test is run simultaneously (footage sped up) and the iPhone 6S gives a result in just 13 seconds while the iPhone 6S result is in at 16 seconds. The Galaxy S6 result is ready some considerable time later at 43 seconds, and the reviewer notes that the testing time of the iPhone 6S is the fastest he'd seen. Obviously the video also shows the result of the actual benchmark test.
In Geekbench 3 the iPhone 6S achieves a single-core score of 2535 and a multi-core score of 4419. The iPhone 6S Plus managed a single-core score of 2526 and multi-core of 4411, so is very close behind. Interestingly the Samsung Galaxy S6 has a lower single-core score of 1466 but a higher multi-core score of 5232. The reviewer also says that the scores attained by the new iPhones are both notably higher than for the previous iPhone 6.
We're interested to see further different testing on the new iPhones and will bring you much more over the coming weeks. In the meantime what are your thoughts on this early benchmark result of the iPhone 6S vs 6S Plus vs Galaxy S6?
Source: YouTube
https://www.youtube.com/watch?v=IjVOzmKIWa0://