Chelsea FC fan app updated before Southampton clash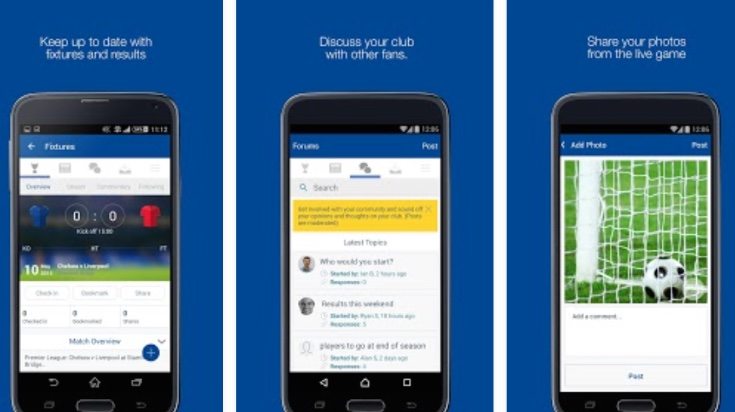 There are some impressive football apps about and we like to keep readers informed about new or updated ones on the App Store or Google Play. One Chelsea FC fan app has just been updated for iOS and Android, just in time for the Southampton clash later today. The free app offers a live event stream, the latest news and more, so that you have everything you need to know at your fingertips.
The Chelsea vs. Southampton kickoff time is 5:30pm. After their Champions League setback in mid-week the Blues may have had a knock of confidence, and many fans will be wondering if captain John Terry may be in the starting lineup today. Of course Diego Costa is still suspended so it could be Radamel Falcao or Loic Remy that steps up to the plate. Meanwhile Southampton's Jordy Clasie could make his debut in the Premier League after recovering from an ankle injury.
There is a multitude of Chelsea football apps available, and one of them is called the Fan App for Chelsea FC. The iOS version of the app received an update earlier in the week while the Android app was updated just just a little before that. The app offers a good way of keeping fans in the loop about fixtures, results, and the latest news.
For matches there's a live event stream and Blues supporters can check in to share their comments about the action as well as their photos. All of this fan engagement is shared in the live stream giving different perspectives of what's happening on the pitch. If you can't be watching the game you can follow the live event stream to stay in touch with the match. The app also offers the latest news from the club, notifications, and messaging.
If you want to take a look at the Fan App for Chelsea FC iOS app you can find it at iTunes. It's compatible for iPhone, iPad, and iPod touch running iOS 7.0 or later. Alternatively for the Android download you can head to Google Play where it's compatible with devices running Android 2.3.3 or later. Remember this is a free app on both platforms, so you really have nothing to lose by checking it out.
Are you going to take a look at the Fan App for Chelsea FC in time for Chelsea vs Southampton later today? Why not let us know what you think of it by dropping us your comments.