Samsung Galaxy J5 vs Galaxy A5 in bootup speed test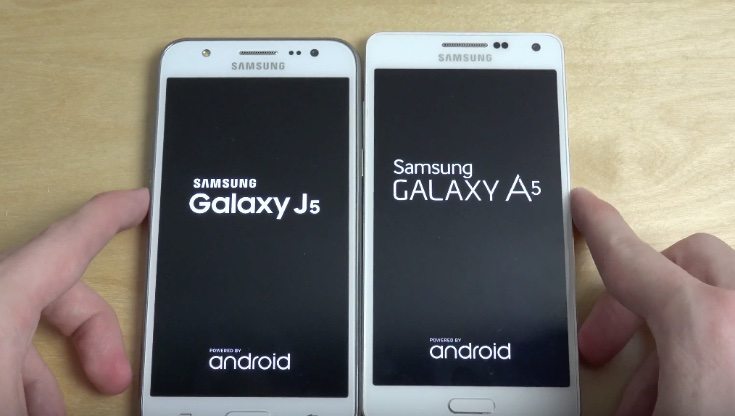 We spend a lot of our time at Phones Review covering new device launches, but occasionally it's good to take a look at something a little different. The Samsung Galaxy J5 released in summer and is one of the company's more affordable devices. Meanwhile the Samsung Galaxy A5 released at the end of last year and has very similar specs. Today it's time for the Samsung Galaxy J5 vs Galaxy A5 in an informal bootup speed test.
Before we get to the speed testing we'll consider the key performance specs for both of these devices. They have the same 1.2GHz Snapdragon 410 quad-core processor and Adreno 306 graphics. The Samsung Galaxy J5 has 1.5GB of RAM while the Galaxy A5 has 2GB of RAM. The J5 runs the later Android 5.1 Lollipop operating system while the A5 released on Android 4.4.4 KitKat, upgradable to Android 5.0.2.
Below this article we've positioned a YouTube video from Adrianisen that looks at the Samsung Galaxy J5 vs Galaxy A5 in informal speed testing. The video begins by showing the designs of the phones and how they differ, for example the Galaxy J5 has a removable battery while the Galaxy A5 does not. Both phones are then powered up at the same time to find out which is ready for use first.
You'll see a clear winner, although not by a huge difference, but we won't give away the result here or it may spoil the suspense. After this the reviewer heads into Settings and About Phone to show the operating system versions being used. They are both running Lollipop and the reviewer makes the point that they are unlikely to receive the Android 6.0 Marshmallow update. Following this some apps are simultaneously opened up on both handsets, and again they are very close in speeds.
The video also shows some of the differences in the user interfaces and more. If you have any comments about this Samsung Galaxy J5 vs Galaxy A5 bootup speed test, let us know using the box below.
https://www.youtube.com/watch?v=ykkqmc4PI1s://