Lumia 950 XL removable battery shown in new leaked image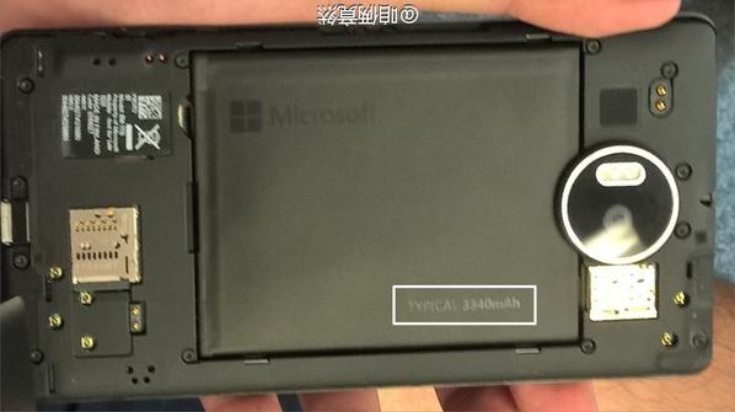 Microsoft is holding an event tomorrow where it's anticipated that we'll finally see the big reveals of the Lumia 950 and Lumia 950 XL. Leaks are flooding in at just about every turn at this stage, and now the Microsoft Lumia 950 XL removable battery is shown in a new leaked image.
It doesn't appear that there's much left to find out about the Lumia 950 XL, such has been the extent of the leaks. Just in recent days we've seen some indications of the prices of the Lumia 950 and larger XL version. Both of the upcoming Windows 10 Mobile smartphones also made a brief appearance on the UK Microsoft Store. Now this latest news about the battery is likely to be welcomed by many prospective purchasers.
Some leaks have previously suggested a removable battery for the Lumia 950 XL (as included in our comparison of the phone against the iPhone 6S Plus). However, this hasn't been confirmed yet so it's always good to see further evidence. The new Lumia 950 XL shows the handset minus its rear cover, and you can see that there's access to the battery, although it's covered slightly at one end by the large camera module.
You might also be able to spot a 3340 mAh battery capacity marked on the device, just a little higher than the largely rumored 3300 mAh battery. It's perhaps surprising to see the battery size printed there, so for now we'll keep an open mind on that one. While we cannot verify if this image is the real deal, we will say that it does come Steve Hemmerstoffer, an often-reliable source.
It's getting increasingly unusual to see new top-flight smartphones with user-replaceable batteries, so this could be another incentive for some buyers to try out this Windows 10 Mobile phone. We're pretty excited about tomorrow's announcement for the Lumia 950 and Lumia 950 XL, when we should finally hear official details including confirmed prices and a release date.
While we wait we'd like to hear from you. Are you pleased to see this latest image showing that the Microsoft Lumia 950 XL has a removable battery?
Source: @stagueve (Twitter)
Via: GSMArena