Lumia 950, 950 XL spotted on Microsoft Store UK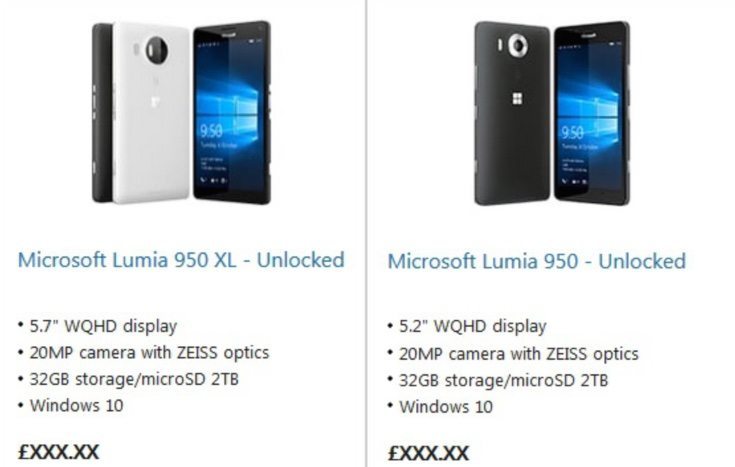 We can barely keep up with the growing amount of leaks about the Microsoft Lumia 950 and Lumia 950 XL. They are expected to be officially unveiled at an event being held on October 6th and will be the first flagships to release running Windows 10 Mobile. Now ahead of the launch the Lumia 950 and 950 XL have been spotted on the official Microsoft Store UK.
Over the past weeks and months there have been so many leaks on these two new Lumia phones that there's not a left let for Microsoft to reveal next Tuesday. For example just in the last few days we've reported on a slide presentation that backed up virtually all of the leaked specs, and also a factory render for the larger Lumia 950 XL that leaked the measurements of the phablet.
Now NPU reports that the UK Microsoft Store gave details of both handsets in a "Windows 10 Ready Phones" list. This confirmed the key specifications we'd heard so far such as the displays, cameras, storage, and more, and of course the final names of the devices. The Lumia 950 for example was shown as having a 5.2-inch WQHD display, a 20-megapixel rear camera with Zeiss optics, and 32GB of internal storage, (expandable via microSD).
Meanwhile the Lumia 950 XL was shown as including a 5.7-inch WQHD display, with the same rear camera and internal storage. As well as this the links for the images that were shown confirmed the Lumia Talkman codename for the Lumia 950 and the Lumia Cityman codename for the Lumia 950 XL. When we checked the source link as given by NPU, we could not see the listings ourselves, so it looks as though somebody at Microsoft was too keen to post the details.
It's less than a week now until the Microsoft Lumia 950 and Lumia 950 XL are made official and we hope that prices and a release date are announced at the same time. Of course we'll bring you all the news, and no doubt there will be some further leaks before then. Are you eager to get your mitts on the new Lumia 950 or 950 XL?