Droid Maxx 2 and Droid Turbo 2 set to be unveiled on October 27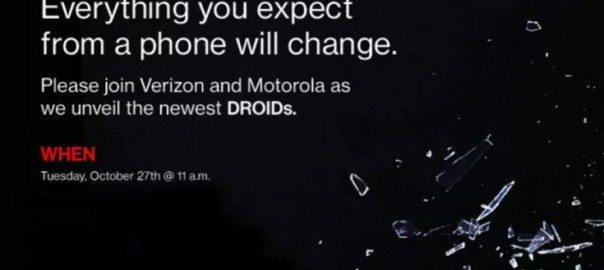 We are creeping closer to 2016, but there are still a few high-end phones set to roll out. The Droid Maxx 2 and Droid Turbo 2 are two of them, and we may have finally gotten a bit of official confirmation as to when they'll be shown off.
Anytime there's a big event in the press, invitations usually roll out. The Droid Turbo 2 and the Droid Maxx 2 release would be considered invite worthy by most, and today a teaser went out to the press that's given us a date. While no devices were mentioned by name, the invite specifically says Big Red and Moto will unveil the newest DROIDS on October 27th.
The Droid Maxx 2 is expected to be the Moto X Play in disguise, a device most folks should be familiar with after its release a few months back. The Droid Turbo 2 on the other hand, is a different beast altogether. The device is set to sport a 5.5-inch QHD panel with a Snapdragon 810, 3GB of RAM and a 21MP/5MP camera combo. The fast-charging 3,760mAh battery is an obvious highlight as well.
Unless something comes out of left field in the next few months, the Droid Maxx 2 and Droid Turbo 2 will be two of the last top-tier devices to arrive in the states this year. They should be popular choices for folks already with Big Red, but it will be interesting to see how many people will jump ship with all the flagships already on the market.
Are you interested in the Droid Maxx 2 or Droid Turbo 2?
source: BGR