Nexus 5 vs Nexus 6 Android Marshmallow speed testing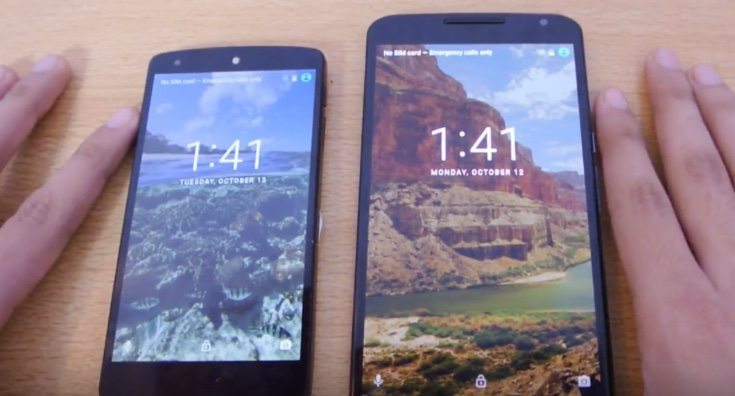 The joys of Android 6.0 Lollipop are starting to reach some users, with the update already arriving for some Google Nexus devices. This is a major update that many people have been looking forward to trying out, and the LG Nexus 5 and Motorola Nexus 6 are two of the devices that it's already available for. With this in mind we're showing a video of Nexus 5 vs Nexus 6 Android Marshmallow speed testing.
The new LG Nexus 5X and Huawei Nexus 6P are the first devices to offer Android Marshmallow out of the box, but of course many device owners are waiting for the update to arrive for their existing smartphones and tablets. The Nexus 5 released in 2013 while the Nexus 6 arrived on the scene last year with a high-end specs sheet and higher price to match.
Key specs of the Nexus 5 are a 2.3GHz Snapdragon 800 quad-core processor, Adreno 330 graphics, and 2GB of RAM. It has a 4.95-inch Full HD display and 2300 mAh battery. On the other side of the coin the Nexus 6 has a 2.7GHz Snapdragon 805 quad-core processor, Adreno 420 graphics, and 3GB of RAM. It packs a 5.96-inch Quad HD resolution display, and a 3220 mAh battery. Both can now be upgraded with the official Android 6.0 update.
The Nexus 6 has higher specs but will this show in Android Marshmallow speed testing of the Nexus 5 vs Nexus 6? You can find out the answer to this in the YouTube video from XEETECHCARE that we've embedded beneath this story. Round one is a bootup test and shows both handsets begin powered on at the same time. They are extremely close in the time it takes them to be ready for action and you can check this out when you watch the video.
The testing then moves on to opening up some of the basic applications, such as the phone dialer and calculator, to see which device is quickest in this respect. Again it's a close run thing. You'll then see the Subway Surfer app loading up and you may be surprised that the Nexus 5 was the quickest with this one. There's a further look at other apps and benchmarks being opened up, but we won't give away all of the results as we don't want to spoil the suspense for when you watch the video!
More testing shows browser performance with various websites being opened and the reviewer pointing out that both handsets are on the same WiFi connection. There are mixed results here, as you can see, but performance looks to be smooth on both phones. When you've checked out the video we'd like to hear your thoughts. Are you surprised at any of the outcomes of this Android 6.0 Marshmallow speed testing on the Nexus 5 vs Nexus 6?
https://www.youtube.com/watch?v=H82P10sxSLM://