iOS 9.1 review shows new emojis and more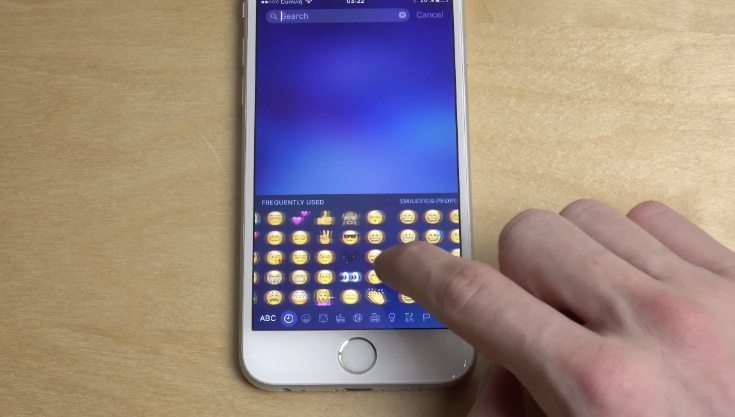 If you have an iPhone, iPad or iPod touch you may already know that Apple released iOS 9.1 yesterday. The update brings more emoji characters, improvements to Live Photos, performance optimizations and bug fixes. You can see more about it in an iOS 9.1 review that shows the new emojis and more.
One of the changes of the update that many people are focusing on is over 150 new iOS 9.1 emojis with full support for Unicode 7.0 and 8.0 emojis. The over-the-air update is around 313MB in size (varies by device), and changes to Live Photos means that this feature now intelligently sense when users raise or lower their device so that these movements are not automatically recorded.
Users will receive notifications to their devices about the update, which also includes stability enhancements for CarPlay, Music, Photos, Safari and Search, as well as improvements for Multitasking. The upgrade also contains many fixes for various issues involving Calendar, Game Center, Audio Message, Mail, app updates, carrier activation errors, and more.
If you want to get an idea of these additions and improvements you can check out the iOS 9.1 review that we've embedded below. The update is demonstrated on an iPhone 6S and the video comes from a regular YouTube contributor, Adrianisen. It begins with a screenshot listing what's new within the update and then shows some of the new emojis.
Following this the reviewer discusses multitasking improvements, new wallpapers, a fix for a problem with updating some apps that he had noticed himself, and other fixes. It's worth pointing out that some users might not want to update their devices just yet if they want a jailbreak, as Apple has blocked Pangu jailbreak exploits with iOS 9.1.
After you've taken a look at this iOS 9.1 review on the iPhone 6S we'd like to know if you have already updated your iPhone or iPad to iOS 9.1? If so, has everything gone smoothly for you or have you noticed any problems?
Source: Adrianisen (YouTube)
https://www.youtube.com/watch?v=ca6ewB9N3AE://