Samsung Galaxy A5 and A3 2nd gen models in testing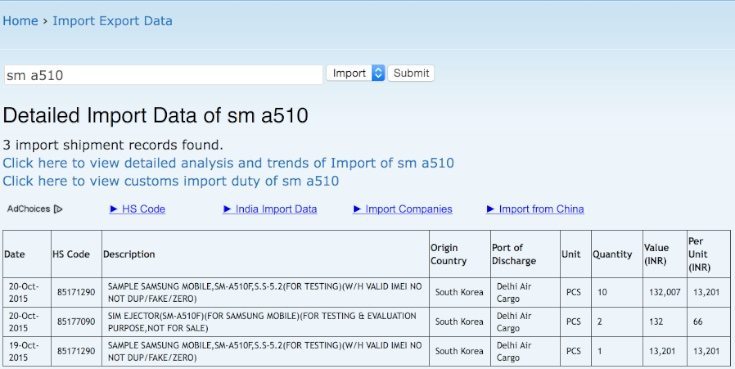 Many readers will be familiar with the Samsung Galaxy A3 and A5 smartphone that released in the later part of last year. These were popular more affordable Samsung handsets, and now it appears that new versions are on the way. A sighting has revealed Samsung Galaxy A5 and A3 2nd gen models are in testing.
There's likely to be a lot of interest in new Samsung Galaxy A5 and A3 smartphones, and we often see first spots of upcoming devices on Indian import/export site Zauba. Now two Samsung handsets with model numbers SM-A510F and SM-A310F have turned up on the site's database. As the original Samsung Galaxy A5 and A3 had model numbers SM-A500 and SM-A500 respectively, it makes sense that the new model numbers are for their upcoming successors.
The phones have been imported in limited numbers so far for testing and evaluation purposes, and the appearance of the phones on the import site doesn't give much away about the specs of the devices. However, we can see that the SM-A510F (Samsung Galaxy A5 2nd gen) has a 5.2-inch display while the SM-A310F (Samsung Galaxy A3 2nd gen) has a 4.75-inch screen size. These are both larger than the original versions that had 5-inch and 4.5-inch displays respectively.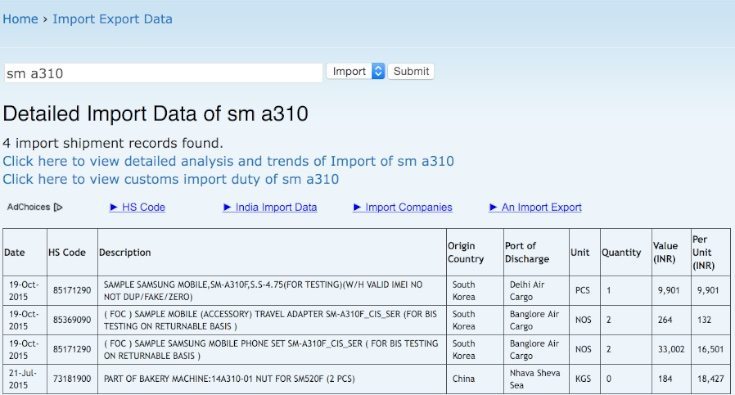 This is around the time that we'd expect to see the successors to the A5 and A3. This sighting of the new Galaxy A5 and A3 is a promising sign, as it signifies that the devices are one step closer to a launch. It's not clear what the 'F' in the model numbers of the upcoming handsets signifies, but no doubt that will become evident before too much longer.
The listing also reveals some final snippets of information about possible pricing. The next-generation Samsung Galaxy A5 is shown with a price of Rs. 13,201 while the 2nd gen Galaxy A3 has a value of Rs. 9,901. We should be clear that these are not the final prices of these phones and they are both likely to have a higher retail price. Nevertheless they do give us some idea of the price range they will be in.
We'll keep readers in the loop with more leaks and news, and in the meantime it would be good to receive your comments. Do you hope that the Samsung Galaxy A3 and Galaxy A5 2nd gen smartphones release before too much longer?
Source: Zauba (1) (2)
Via: Phone Arena