BlackBerry Priv stock apps reach Google Play before release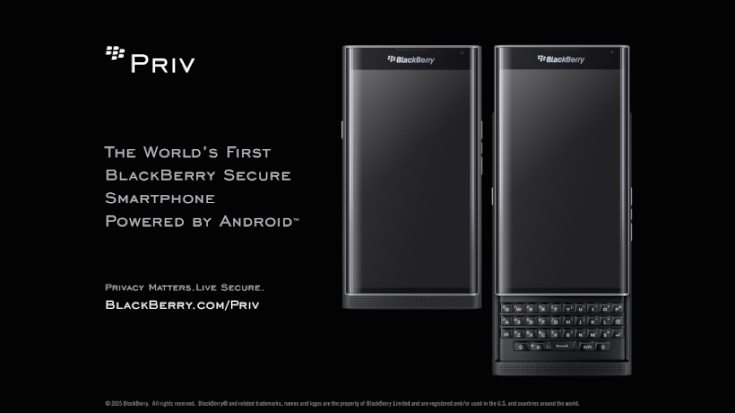 One upcoming smartphone that's generating a lot of talk right now is the BlackBerry Priv. Of course one of the big talking points is that it will be running Android and there's a general feeling that this could be the device that turns around BlackBerry's ailing fortunes. The phone will be available from next month and now BlackBerry Priv stock apps have reached Google Play before the release.
BlackBerry Priv official prices and pre-orders are already available in the UK, the US and Canada, and it's set to ship on November 6 for the US and Canada or November 9 in the UK. The BlackBerry Priv stock apps that are now listed on Google Play are ones that will come with the smartphone, although of course they cannot be installed just yet anyway as the phone has not arrived.
The idea of placing the apps on Google Play means that in future BlackBerry can update the apps without having to hold on for device updates. This makes for an easier process, and other manufacturers such as HTC and Motorola have also been making stock apps available through Google Play. This also lends itself to the possibility that BlackBerry may extend the reach of some of these apps to other Android smartphones at some point.
The 7 BlackBerry Priv stock apps on Google Play so far are —
BlackBerry Camera
BlackBerry Launcher
BlackBerry Keyboard
BlackBerry Password Keeper
BlackBerry Services
DTEK by BlackBerry
MicrosoftexFAT for BlackBerry
You can find all of the apps on Google Play at the links provided above for more details on each. We're interested to follow the success (or not) of the Android BlackBerry Priv with its high-end specs and slideout keyboard.
Are you eager to see the BlackBerry Priv release? Maybe you have already pre-ordered this new BlackBerry smartphone? Why not let us know with your comments.
Via: BlackBerry Central