Huawei Mate 8 renders show a familiar design trait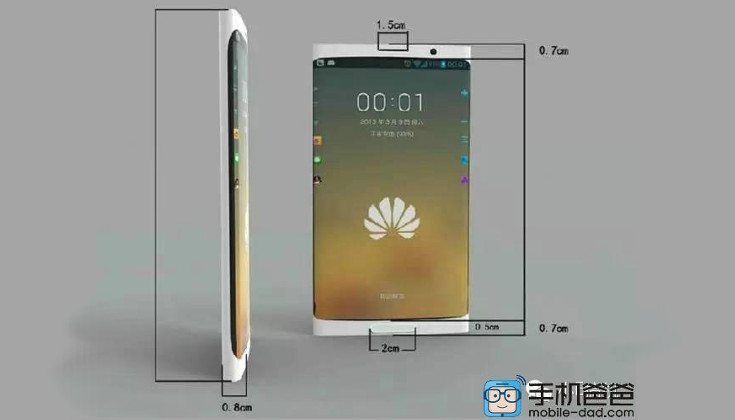 The Huawei Mate 8 has been popping up in the rumor mill lately, and we've already gotten a look at the rumored Huawei Mate 8 specs and release date. The newest leak may give us an idea on the design, and it has a trait that will be familiar to fans of Samsung.
While we can't wait to get our hands on the first foldable smartphone next year, curved displays are what most manufacturers seem to be shooting for at the moment. We've seen a number of smartphones with 2.5D displays and curved edges, and it appears that the Huawei Mate 8 may soon follow suit according to a new report and a couple of Huawei Mate 8 renders.
While the Huawei Mate 8 aren't the cleanest, they show a smartphone with an edgeless display thanks to curved edges on both sides. The display wraps around a bit just like the Samsung Edge smartphones, and there's a physical home button at the bottom that will house a fingerprint sensor.
As for the Huawei Mate 8 specs, it's rumored to have a 6-inch QHD panel with a pressure-sensitive display and will get its power from a Kirin 950 which will be backed by 3GB or 4GB of RAM. The storage clocks in at 32GB/64GB and there's a 20MP rear sensor to go along with an 8MP front-facing snapper.
The Huawei Mate 8 is still very much in the rumor phase at the moment, but the Huawei Mate 8 specs seem likely given the timeframe for its release. We're not sure what to make of the Huawei Mate 8 design if the renders are legit although curved edges would be a nice way to go. Either way, we should find out more soon as the Huawei Mate 8 release date is rumored to fall in December or January.
Are you sold on curved edges or do you feel it's just not useful enough?
via – Mobipicker    source: Mobile-dad