Latest Forza Football app update brings wide improvements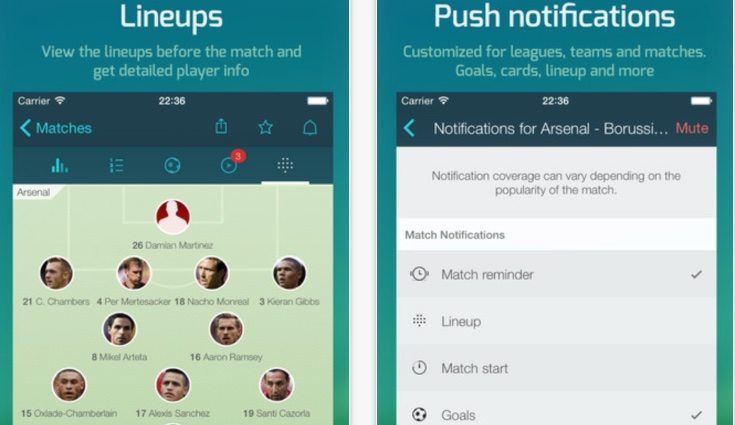 Whether you're a fan of Man Utd, Chelsea, Arsenal, Liverpool, Real Madrid, Barcelona or any other club, you'll have something in common with other supporters. If you love football you'll appreciate an easy way to keep in touch with all the latest news, live scores, team lineups and much more. The latest Forza Football app update brings wide improvements to the hugely popular Android and iOS app.
We've written about Forza Football by FootballAddicts on several occasions, as this free app offers one of the best mobile experiences for enthusiasts of the great game. Whichever team you support the app has a wealth of features to offer, as it covers hundreds of football leagues and tournaments worldwide.
Just a few of the main features are live scores (with very speedy notifications so you'll always know when the goals go in), pre-match lineup and formation news with player photos, and match highlights. You can receive notifications for not just match scores, but also match start, red cards, lineups, video highlights and more. The Android and iOS versions have both been upgraded in the last few days to bring further improvements to this well-loved and highly rated app.
The Forza Football — Live Scores, Lineups, and Highlights iOS app is up for grabs at iTunes. It's free and compatible with iPhone, iPod touch, and iPad running iOS 7.0 or later. It was updated to version 3.5.4 on November 3rd bringing various enhancements and additions. For example, users of the app can get their voices heard by answering questions and surveys about their favourite team asked by sports journalists and FootballAddicts. There's also a VoiceOver feature that will read the player positions when you're viewing the team lineups, along with improved right-to-left language support. The app also brings a fix for a problem that caused crashing when reordering competitions.
Meanwhile if you want the Forza Football download for Android it's available from Google Play. The app for this platform was updated last week on October 30th, and the version number and compatibility varies according to device. This latest Android update of the Forza Football app brings some notable changes for users as the notification system has been rebuilt from the ground up. This should resolve issues that some have been reporting, as well as offering overall enhancements for notifications. Further improvements are expected over the coming weeks, so if this is an area of the app you've had problems with, this will be welcome news.
Are you a football supporter and a fan of the Forza app? What are your thoughts on these latest updates, and the improvements and new features they bring? Maybe you're about to try out Forza Football for the first time? Let us have your comments.